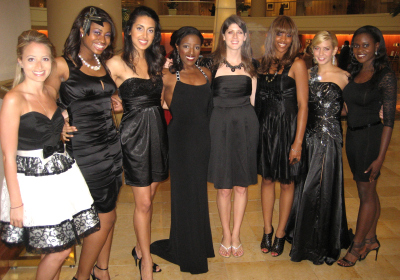 Contestants vying for the title of Miss DC dished on their favorite eateries around the city as they served as greeters at the annual Restaurant Association of Metropolitan Washington's RAMMY Awards Sunday night:
"I had brunch at Ulah St. Bistro and really enjoyed it," said Katori Brown.

"The presentation was awesome!" Maria Theresa Grinneby loves Himalayan Heritage.

Laura Peterson fancies the fresh seafood at Phillip's on the SE Waterfront.

Lauren Craig gets her power meals at Cafe Milano.

"I love the scenery, the dancing and traditional food at Marrakesh," gushed Sarah Turkel. "Check out the seven course menu."

Jennifer Beatty recommends the cornbread at Founding Farmers.

Sopen Shah claims the Oval Room is most outstanding.

And Sophia Davis says her favorite food is drizzled with chocolate at CoCo Sala.