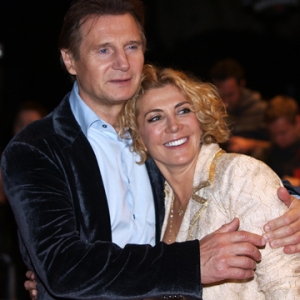 Following the death of Natasha Richardson on Wednesday, stars and friends shared their memories of the late actress.

"Natasha was a great actress, a fantastic mother, a loving wife and a whirlwind of energy, with an infectious love of life expressed firstly by her wonderful deep laugh. Anyone who knew her will be in mourning today. I hope that Liam and her sons are helped in their pain by the great love and sympathy that is coming to them from people all over the world."
--Helen Mirren

***

"Tash was the warm sun in the center of a large constellation of family, friends, all of those lucky enough to know her — she is irreplaceable in our lives; she gave us so much, so generously — her legacy is the love that connects us all."
MORE ACCESS ON THESE TOPICS: Natasha Richardson - Deaths - Celebrities

--Meryl Streep

***

"For everyone who knew and loved her, Natasha's death is a terrible, devastating loss. She was a star. A great actress, a beautiful woman, a fiercely loyal friend, a brilliant and generous companion. She was an adoring and loving wife and mother. She was unique. My thoughts and prayers go out to Liam and her beautiful sons, Micheal and Danny and to all her family. I cannot imagine a world without her wit, her love, her mischief, her great, great talent and her gift for living. I loved her very much. She was a supreme friend. I shall miss her deeply."

--Ralph Fiennes

***

"Tasha is irreplaceable. I cannot think of anyone kinder, more generous, thoughtful, smarter or more fun. She is godmother of two of my children. The Neesons and Vanessa (Redgrave, Richardson's mother) have always made me feel a part of their wonderful family. My thoughts and prayers are with them."

--Mia Farrow

***

"She was one of a kind, a magnificent actress. … She was also an amazing mother, a loyal friend and the greatest and most generous host you could ever hope to meet."

--Sam Mendes, who directed the Broadway musical "Cabaret" for which Richardson won a Tony Award in 1998.

***

"Natasha was brilliant, beautiful, funny, talented beyond measure, as emotionally raw as she was razor sharp. … May Liam, her beautiful boys and her loving family hold her close as they move through this tragic moment."

--Jodie Foster, who co-starred with Richardson and Liam Neeson in the 1994 drama "Nell."

***

"She was a wonderful woman and actress and treated me like I was her own. … My heart goes out to her family. This is a tragic loss."

--Lindsay Lohan, who co-starred with Richardson in a remake of "The Parent Trap" in 1998.

***

"As a stage actress she was really coming into her own, she was becoming a major star and taken extremely seriously on the stage and also her film work … was excellent. She had a sort of luminous presence on the stage, but offstage she was a very shy, very easygoing, almost self-deprecating character who didn't like being made a fuss of."

--Tim Walker, theater critic for Britain's Sunday Telegraph newspaper.

***

"She was quite careful about what she did. But what she did, she went into with a full heart and a passion. She was very discerning, very serious about the film roles she chose. It's absolutely tragic that somebody with so much to offer, and of course from this great acting dynasty, should be taken at this time of her life, and tragic of course for her family."

--British theater critic Michael Coveney

***

"I just want to say how deeply saddened I am, we all are, by the sudden passing of actress Natasha Richardson yesterday. Our thoughts and prayers are with her husband Liam Neeson, their two sons, the rest of their family and friends. Yet another reminder of how fleeting life can be and how precious. We need to value every moment."

--Oprah Winfrey, on her talk show.

***

"She was a lady. I can't tell you enough what a good person she was, and fun and vivacious and the most full of life."

--Kelly Ripa, co-host with Regis Philbin on the syndicated talk show "Live With Regis and Kelly."

Copyright NBCAH - Access Hollywood