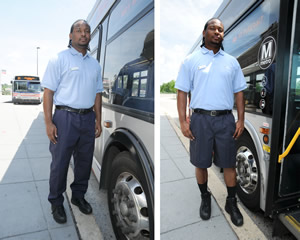 Metrobus operators have stepped up their swag. If you haven't noticed, some drivers are rocking new threads.
The new optional summer uniforms are reminiscent of an elementary school uniform, but with cargo pockets! And for those who want to bare some leg -- cargo shorts are allowed. Blue is still the central theme with navy blue pants and shorts and light blue, short-sleeve polo shirts.
It's a comfy change to the traditional uniform, but employees cannot get too casual with the temporary attire. Drivers have to purchase the uniform from Metro's authorized supplier and shirts have to be tucked.
"This new uniform option provides our drivers more comfort as the days get hotter, while maintaining a distinctive appearance," said Jack Requa, assistant general manager of Bus Services.
Metro drivers can wear the summer gear until Sept. 26.