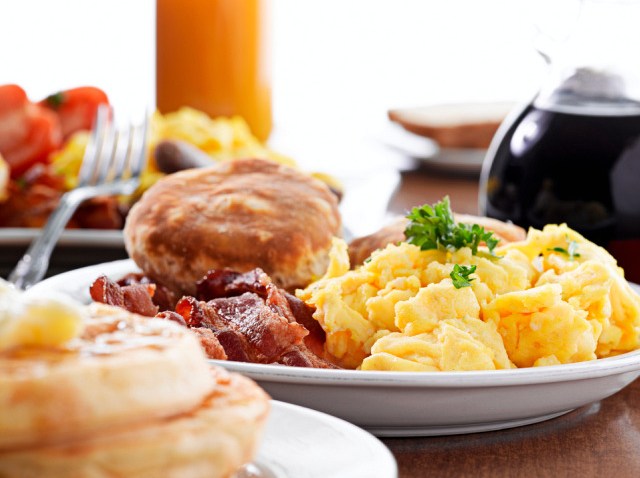 Breakfast is the most important meal of the day -- so you better make it a good one. And leave it to the folks at Food Network Magazine to find all the must-eat breakfasts in every state and the District. That's a lotta eggs and bacon.
Some breakfasts were picked because they're classics, and others because they're so outrageous you just have to try 'em. The Portuguese Fisherman, anyone? How about Penny Cluse? Sounds more like your long-lost relatives, not your first meal of the day.
The magazine's D.C. pick: Founding Farmers' fried chicken, eggs and waffles. This D.C. hotspot is just blocks from the White House, so you might see some power players at breakfast. And it's as ecofriendly as it is delicious -- fried free-range chicken coated in whole-wheat flour, with organic eggs and a waffle. Oh, and a creamy pepper gravy make from whole-wheat flour and anitbiotic-free cream and butter.
Almost sounds healthy.
In Virginia, the magazine recommends Kuba Kuba in Richmond for its California Huevos Rancheros. And in Maryland, the pick is Miss Shirley's Cafe in Baltimore for Shirley's Affair With Oscar. Give you three guesses as to what this is. Well, it is Maryland, so think crabs. The chef tops fried green tomatoes with crab, two fillets of grilled beef, asparagus and hollandaise, and it comes with a side of creamy mascarpone grits. It's never too early in the day to eat crab. But that's a lot of food.
Start with these three local-ish faves, and if you're a breakfast nut, take your vacation on the road this summer. The breakfast alone will be worth the trip.
---
Let's go Around Town: Keep up with what's happening in the D.C. area anytime, anywhere. Follow us on Twitter and Facebook. Sign up for our e-mail newsletters and find out What You're Doing Tonight with texts delivered right to your mobile phone -- just text DCTONIGHT to 622339 to sign up. (Message and data rates may apply.) Don't forget our iPhone app!