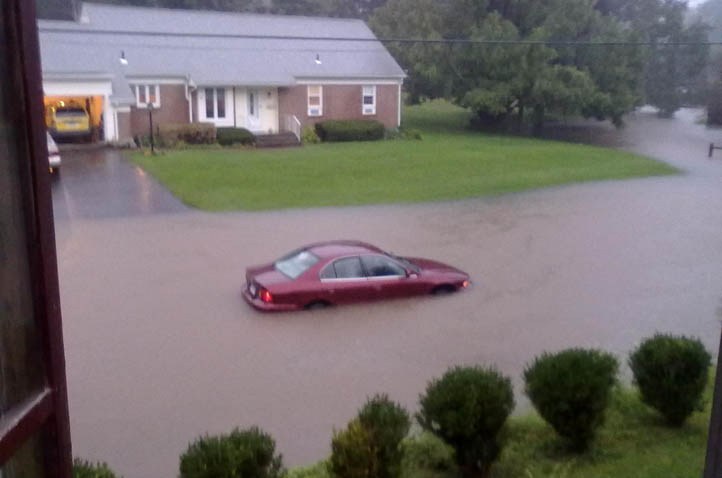 This article is sponsored by Michael & Son, the leading full-service plumbing, electrical, HVAC and remodeling company serving the Washington D.C. area for over 30 years. Learn more about Michael & Son at MichaelandSon.com.

In the past, we've revealed the four essential steps to keeping your house dry when showers strike. But what happens to your home when serious flooding occurs and you're forced to evacuate?

We suggest you follow the six precautionary steps below to protect your valuables and minimize damage to your home.
Always elevate: Higher ground doesn't only apply to you and your loved ones. Make sure your furnace, water heater and electrical panel are elevated.
Check valves are essential: Install "check valves" -- valves that only allow liquid to flow in one direction -- in sewer traps to prevent backed up drains.
Sandbag it: All doorways and any other area susceptible to flooding should be barricaded with sandbags.
Waterproof your walls: Basement walls should be sealed with waterproofing compounds to avoid seepage.
Move your furniture: If you have time, bring outdoor furniture indoors and move essential items to upper floors.
Power utilities down: If instructed, turn all utilities off at the main switches.
These tips will keep your home as safe as possible in the event of a flood. But remember to also follow all the necessary steps to ensure your family's safety; if there is a flood warning on TV, follow the broadcasted instructions, evacuate your home and--in the case of a flash flood--immediately seek higher ground.

If you're not sure that your home can stand up to a flood, call Michael & Son and we can help make sure your home doesn't end up full of water.