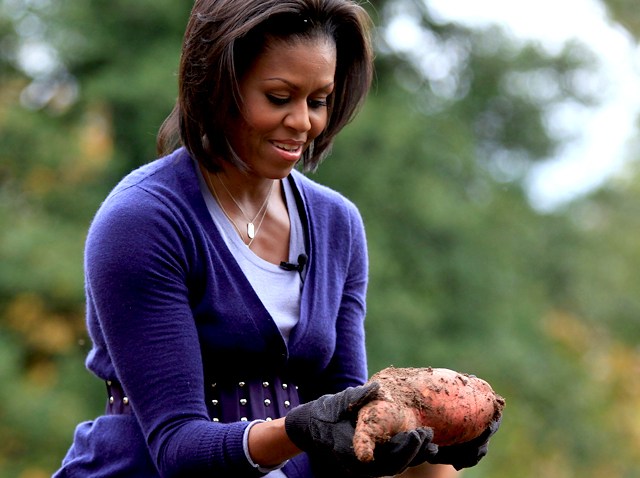 The First Lady has scored a cameo on "Iron Chef America," along with White House executive chef Cristeta Comerford.
It's all part of her sneaky plan to make children eat better. But more on that later...
In the episode, which will open the show's new season, Comerford and celebrity chef Bobby Flay joins forces against Mario Batali and Emeril Lagasse.
Mrs. Obama will reveal the secret ingredient that the chefs must use in their televised cook-off, the New York Times reported. She'll also talk about her Healthy Kids Initiative.
That's her campaign to reduce childhood obesity through better school lunches, community gardens, farmers' markets and exercise.
Hillary had health care. Michelle has the kids' waistlines.
The difference, according to the Times, is that Mrs. Obama is getting her message across in ways few of her predecessors would have considered. True, but we think The Gray Lady forgets how the Obamas used the Internet to help win the presidential campaign. The First Couple is smarter than smart, and hip too.
They're also big sweet potato lovers, according to the First Lady, who suggested the chefs might want to add one or two from the White House garden to their cooking.
Iron Chef's season opener was taped at the White House with the First Lady; the chefs had a reunion cook-off in New York this past Tuesday sans Mrs. Obama.
The episode is scheduled to air Jan. 3 on the Food Network.