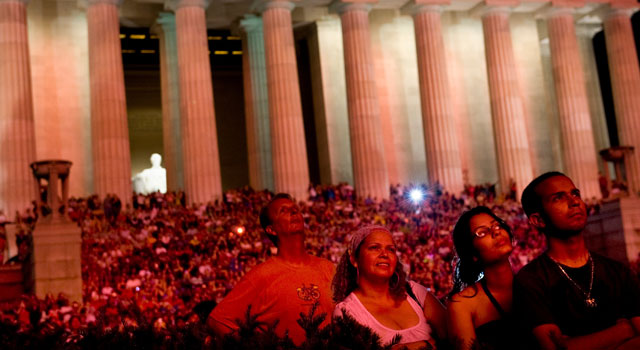 Remember that time the cops came out because you basically launched a rocket from your patio? That wasn't the best Fourth, now was it? Find a place where you don't have to risk third-degree burns.
(All events are July 4 unless otherwise noted.)

THE DISTRICT:

A Capitol Fourth on the National Mall -- The concert, held on the Capitol's West Lawn , runs from 8-9:30 p.m., but folks will be grabbing their perfect spots starting at 3 p.m. The National Symphony Orchestra, Aretha Franklin, Barry Manilow and Natasha Bedingfield will perform. Near-epic fireworks begin around 9:15 p.m.


MARYLAND:

National Harbor -- Get into the spirit a day early! Gaylord Hotel (201 Water St.) hosts a family event July 3; the festival includes entertainment beginning at 4:30 p.m. Admission is $5 per person. Stick around for fireworks at 9:30.
Gaithersburg -- The Big Bang Weekend celebrates July 2-6. On the Fourth, the gates of the Montgomery County Fairgrounds, 16 Chestnut St.) open at 5 p.m. At 6, a night's entertainment gets going, with WASH FM, musical performances and a city ceremony. Fireworks begin around 9:25 p.m. Food and drinks will be sold on-site. Find more info and the rest of the weekend's scheduled events here.
Greenbelt -- Entertainment begins at 4 p.m. at Buddy Attick Park (555 Crescent Road). Fireworks are at dusk.
Rockville -- Head out to Montgomery College: Rockville Campus (51 Mannakee St.), where live entertainment begins at 7 p.m. Fireworks start at 9:30 p.m.
Takoma Park -- A parade gets rolling at 10 a.m. at the intersection of Carroll and Ethan Allen avenues. The route will follow Carroll Avenue toward D.C., cross over to Maple Avenue along Carroll Street and return along Maple Avenue. Takoma Park Middle School (7611 Piney Branch Road) starts its evening celebration at 7 p.m. with concerts and patriotic music. Fireworks start at 9:30 p.m.


VIRGINIA:

Arlington -- You'll find seven different community parades on the Fourth, most starting at 9 or 10 a.m. Arlington cops out on the fireworks, but cites its "spectacular views" (OK, we'll give them that) of the Mall's fireworks, including a list of viewing locations on its Web site.
Herndon (Herndon Community Center, 814 Ferndale Ave.) -- Gather with locals for food, entertainment, clowns and jugglers before the fireworks at 9:30 p.m.
Falls Church (George Mason High School, 7124 Leesburg Pike) -- Live music starts at 7 p.m.; fireworks are at 9:30 p.m.

Fairfax -- An Independence Day parade marches through downtown Fairfax at 10 a.m. Music and entertainment kick off at 7 p.m. at Fairfax High School (3501 Rebel Run); fireworks follow after dark.

McLean (Langley High School, 6520 Georgetown Pike) -- Festival of music, food and kids' games starts at 6 p.m. Fireworks after dark.

Reston (Lake Fairfax Park, 1400 Lake Fairfax Drive) -- The park opens at 7 a.m.; the Water Mine Swimmin' Hole is open 10 a.m.-8 p.m. Food vendors, a dunk tank, a moon bounce and an obstacle course provide entertainment until the fireworks begin at 9:15 p.m.