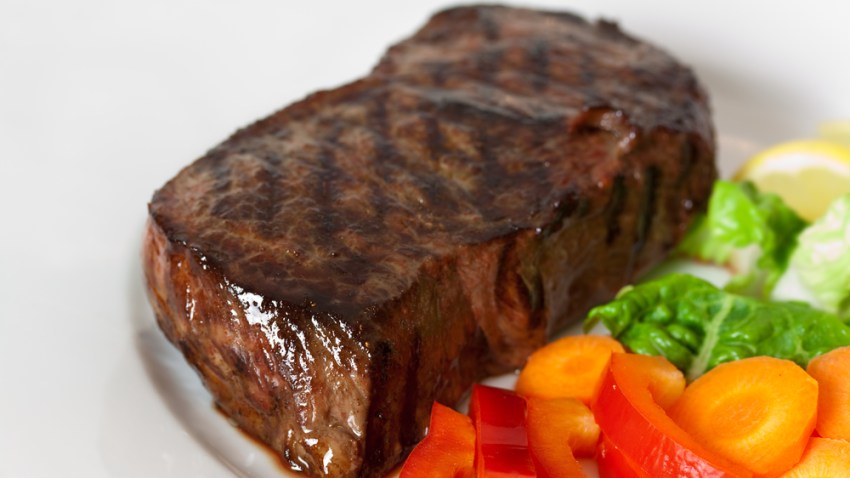 He taught you how to ride a bike, change a tire, and deal with your mom. You owe him a good meal now and then, yes?

Check out our picks for Father's Day dining deals around town:
Acadiana (901 New York Ave. N.W.) holds a Father's Day Grilling Class on Saturday (1-3 p.m.; $75 per person). Attendees will "learn the secrets" to knockout grilled Riccata Salada, Cowboy Steak, roasted pig and more -- and then they'll chow down with unlimited beer and wine. They'll also get gift bags including a jar of housemade barbecue sauce. For reservations, e-mail jillian@passionfoodhospitality.com or (202) 408-0201.

Blue Duck Tavern (1201 24th St. N.W.) holds a Farm Table Dinner on Saturday ($120 per person). Chef Brian McBride teams up with colleagues from Baltimore's Woodberry Kitchen and Beaver Creek's 8100 Mountainside for food, wine and activities. For reservations, call (202) 419-6768.

The Counter (11922 Democracy Drive, Reston Va.) has "A Big Freakin' Deal," also known as the Burger for Dad. On Father's Day, bring in your family and say "I want the BFD!" -- and Dad gets the burger for free. The BFD is a choice of beef, chicken, turkey, veggie or a Market Select burger, along with the options of 12 cheeses, 33 toppings, 21 sauces and four types of buns.

Nage Bistro (1600 Rhode Island Ave. N.W.) is offering a Father's Day dinner (5-9 p.m.) of local ingredients and comfort food, including the Spinach Cobb Salad with grilled scallops, bacon vinaigrette, avocado and blue cheese ($12); and bacon-wrapped soft shell crab with grilled mango, mizuna and pequillo vinaigrette ($14). They're also offering a Father's Day four-course surf 'n' turf ($40 per person). For reservations, call (202) 448-8005.

Restaurant 3 (2950 Clarendon Blvd., Arlington) is serving up a special Father's Day meal ($27): a 16-ounce Texas rubbed bone-in ribeye with mashed potatoes and creamed spinach and draft beer. Or go early for a brunch of chicken and waffles, with a Nick's Bloody Mary.

Screwtop Wine Bar (1025 N. Fillmore St., Arlington) holds a tasting event Sunday (6:30-8 p.m.; $50). Beer and cheese experts will guide participants through five craft brews and cheeses pairings. For reservations, call (703) 888-0845.

Sonoma Restaurant and Wine Bar (223 Pennsylvania Ave. S.E.) is serving up a special $12 "Dad Burger" on Sunday (10:30 a.m.-10 p.m.). The Dad Burger features local dry-aged beef, bleu cheese and topped with grilled onions, bacon and mushrooms.

Trummer's on Main (7134 Main St., Clifton, Va.) offers a three-course prix-fixe menu on Sunday (5-8 p.m.; $59 per person). First courses include Jumbo Lump crabcake, and beef tartare; second courses include New York strip steak and pan-roasted Mahi-Mahi and more. Desserts include berry cobbler and salted peanut brittle ice cream. Trummer's is open for brunch from 11 a.m. to 2 p.m. For reservations, call (703) 266-1623.

Whitlow's on Wilson (2854 Wilson Blvd., Arlington) is open from 11 a.m. to 11 p.m. on Sunday, serving up a burger and a beer pairing for $8. Options include the Diablo burger with Andouille sausage, pepperjack, fried onions, lettuce and tomato, the WOW Chili Burger with cheddar, chili and sour cream, and more. Whitlow's will be showing the U.S. Open on a projection screen and 12 other TVs around the restaurant.

Z-Burger (4321 Wisconsin Ave. N.W.) is giving away a free meal to every customer who brings in his or her father and says, "Dad, you're Z-best!" at the counter on Sunday. The free meal will include a regular, cheese or veggie burger and a milkshake.
---
Let's go Around Town: Keep up with what's happening in the D.C. area anytime, anywhere. Follow us on Twitter and Facebook. Sign up for our e-mail newsletters and find out What You're Doing Tonight with texts delivered right to your mobile phone -- just text DCTONIGHT to 622339 to sign up. (Message and data rates may apply.) Don't forget our iPhone app!