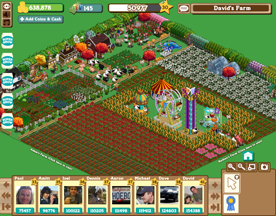 Mention "Farmville," and most folks think you're talking about the virtual farming game on Facebook.
While it's one of the most popular apps associated with the social media website almost too popular and annoying for a growing
number of Facebookers it's not the only place named Farmville. Two real-life towns with the same name existed long before Zynga
created its game: Farmville, N.C., and our very own Farmville in central Virginia.
In the fake FarmVille, you can walk robotically among your square plots of brown earth, plant raspberries that grow in two hours and tick off your Facebook friends with constant updates about the brown mystery eggs found on your farm. In our Farmville, you can buy Amish furniture and sink into Civil War and civil rights history after a three-hour drive from Norfolk.
Where would you rather work and play? Take a tour through our visitors' guides for each and find out.
THINGS TO KNOW
How to Get There
FB: All roads go through Facebook, where you must have an account. From there, you log into FarmVille, using either the online version on a computer or an app on your iPhone or Android.
VA: It's about 140 miles west of Norfolk, located in both Prince Edward and Cumberland counties.
The Look
FB: In a word, flat -- although you can buy the Alps, if you're really successful, or flower-covered small hills, if you're not. Though this Farmville is all computer-generated and looks that way, the pumpkins grown here are the coolest vegetables we've ever seen.
VA: It's cozy with family-owned stores and quaint shops that line downtown streets and rolling hills that spread throughout the
outlying counties. Yes, you could build a small hill if you wanted, for about $80. An associate at Lowe's suggested using 30 bags of
dirt at $2.54 a bag, but that doesn't include the grass seed or sprinkling of white flowers.
General Info
FB: An estimated 16 million people visit each day, and that number is growing. The goal is to plant and harvest crops to earn
Farmville currency, which allows you to buy more seeds and start the cycle all over again. What's annoying is that many FarmVille
players send frequent updates to their Facebook friends with details always punctuated with exclamation points. Things like:
Randy's pig found a Brown Truffle on your farm! Or Belen found some fuel and wants to share it with you in FarmVille! Or Lora visited
your farm and left you a Special Delivery!
VA: The town has about 6,900 residents, according to the 2000 census, and covers about seven square miles. Only a handful of farms actually remain within the town limits.
History
FB: Game developer Zynga created -- though it uses the word "founded'" -- FarmVille in 2007, and the town is still in its beta version.
VA: Prince Edward County was formed in 1754 from Amelia County, and was named for Edward Augustus, son of Frederick, Prince of Wales. In 1762, a bridge was completed along the Appomattox River between Prince Edward and Cumberland counties, and the settlement that grew there became Farmville, founded in 1798. Confederate Gen. Robert E. Lee retreated through Farmville in 1865, and the end of the War Between the States came soon after. In 1951, students from R.R. Moton High School in Farmville led a protest that would later become one of five court cases in the Brown vs. Board of Education decision, which stated that segregation was illegal.
Attractions/Points of Interest
FB: Well, there are farms. You can buy other buildings -- a library, a general store or a bandstand, for example -- but you'll be alone in them. This FarmVille values capitalism (plant, harvest, plant, harvest...) -- and has no opportunity for leisure or communal activities.
VA: The town has parades, county fairs and festivals. The town is a mecca for furniture buyers. Green Front Furniture's offerings
spread over a six-block grid; its 12 different warehouses are the equivalent of about 12 football fields. The town also boasts
Longwood University, which was the first higher learning institution for women in Virginia.
Hampden-Sydney College, one of the few remaining men's schools, is six miles south of town. We learned that saying it's in Farmville, though, constitutes fighting words.
Climate
FB: Luckily, it never rains or hails here. Crops grow on schedule, ranging from raspberries (two hours) to watermelons (four days). You can buy a snowy landscape, but it doesn't affect your plants.
VA: Weather is relatively mild, with bursts of high heat in the summer and deep chills in the winter. Snowfalls are infrequent and usually the overnight-only variety. The most popular forage crops grown primarily for animal feed take months from planting to harvest.
Economy
FB: Not surprisingly, it's farm-based. The monetary system is twofold: FarmVille dollars, which are hard to come by and are used
sparingly, and FarmVille coins, which you get for harvesting crops and with which you can buy more seeds. And yes, you can actually use real money to buy fake money.
VA: Diverse. The largest employers include Longwood, Prince Edward County Public Schools, Southside Community Hospital,
Hampden-Sydney and Walmart.
Costs of Living
FB: The cheapest dwelling -- a cottage in pink, black or beige -- can run 60,000 coins, a mansion more than eight times that. But
it's the smaller stuff that doesn't make sense. A basic mailbox costs 200 coins, but an iron bench is 2,500 and a post with two
hanging plants is an unbelievable 8,000.
VA: A half-million dollars can buy a custom brick-and-slate home with four bedrooms and four baths on 2.5 acres. Or $105,000 can
land a five-bedroom ranch with a creek on the property. As for smaller purchases, a white porch glider retails for $148 ($10 extra
for assembly) and a concrete bench for $49.97. And a cherub stone planter in tan, rose or black will set you back $54.96.
THE FUN STUFF
Fashion Trends
FB: Overall, the look is overalls: blue or purple. Until recently, Farmville avatars -- the digital versions of all the players -- all wore this attire, though a few more clothing choices now exist.
VA: Same as everywhere else, though college students have an affinity for "Where the hell is Farmville, Va.?" T-shirts. As for
overalls, Red Front Trading Company on N. Main Street offered a pair of pink insulated ones, youth size, for $55. Most popular
colors for overalls: brown and moss.
Gift-Giving
FB: Each player can give up to 30 free gifts a day to other players. Sounds great. The gifts, however, can be as mundane as one
nail, one wooden board or one baby bottle. Imagine 20 gifts of one nail each. It's too much, though it's really not enough. As one
player was overheard saying, "Just how many owl statues do I need?"
VA: The area is not known for spontaneous gift deliveries, but residents have received their share of interesting surprises. Megan
Harris, a reporter for The Farmville Herald, was the recipient of a butter churn. Thomas Pairet, a town councilmember, once got a
carport.
Storage
FB: Because of all the gifts that keep coming in, players end up with a lot of stuff. Many farms looked like they were inhabited by
hoarders before underground storage compartments were given this summer to each player.
VA: A steel storage shed, 10 by 8 feet, can be had for $298. A wood rancher, 12 by 8 feet, costs $2,699.
A Superfund Site?
FB: Not yet, but it's common when you're plowing a field to find fuel lying around. Which makes us think that maybe the EPA should
move in.
VA: No.
Strange Animal Sightings
FB: Pigs don't fly, but some sport party hats and others go off in search of brown truffles. Lost bulls often wander onto neighbors' farms, and it's not uncommon to see cats wearing witch hats or ducks in wizard outfits.
VA: No reports of lost pregnant party pigs, but The Farmville Herald newspaper did receive a phone call recently about a deer
running amuck in someone's back yard.
Has a "I Hate FarmVille" Facebook Page
FB: Yes, with 149,768 fans
VA: No.
Copyright AP - Associated Press