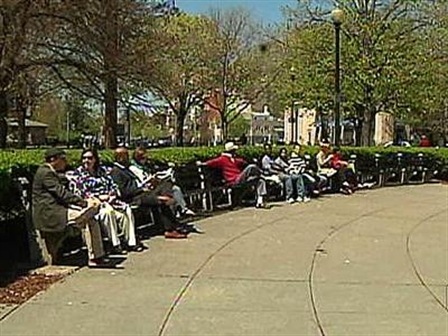 One of the latest trends in urban development is to take a dilapidated urban structure and repurpose it entirely. The success of the High Line in New York has developers and municipalities across the nation looking toward elevated tracks and other unused infrastructure elements and thinking gardens, promenades and galleries.
The District Department of Transportation just released a comprehensive outline for its D.C. Streetcar Plan, which begins with the H Street/Benning Road Line in Northeast and the Anacostia Initial Line Segment in Southeast. Expect that project to suck up a lot of the oxygen about redeveloping old infrastructure -- as it did when outgoing Mayor Adrian Fenty and presumptive Mayor-elect Vincent Gray squared off on funding for the streetcar -- for years to come.
But another group is trying to take an old project in a new direction, more in the vein of a progressive repurposing like the High Line. The Arts Coalition for Dupont Underground wants to take some 100,000 square feet of space underneath Dupont Circle and turn it into performance and exhibition space.
The former underground trolley facility is another relic of the streetcar system that went empty in 1962. One developer tried to revive the spot in 1995, with an underground food court project called "Dupont Down Under" that itself quickly went under.
On Wednesday, the Arts Coalition and the Office of the Deputy Mayor for Planning and Economic Development will host a public reception to present their ideas for the program. The reception, which will take place at the Dupont Hotel at 1500 New Hampshire Ave. NW from 7:00 to 8:30 p.m., was promised at least a year ago -- and the idea itself is two years old.
The Dupont Underground seeks to create a new venue for exhibitions and events, provide an open space for community groups, bring attention to Washington arts and design and strengthen Washington arts networks. Most importantly, though, the group proposes a new plan for a vast, centrally located space whose most recent use -- in 1975 -- was as a fallout shelter.
The impact on the arts community could be enormous. Most of the art galleries and organizations that once called Dupont Circle home have since moved on to U Street and 14th Street NW -- and even some of those galleries have moved again. But the benefit would extend beyond the neighborhood. A central Dupont Underground could bring a permanent space for the sort of pop-up galleries that have taken temporary root in loft spaces around U Street NW over the last two years.
The group seeks to renovate and redevelop the tunnel on the west side of the circle, closest to P Street NW. (There are two tunnels.) Presumably, if another developer has a better idea for using an underground tunnel -- and is willing to undergo the time-consuming and expensive work of bringing the underground space up to snuff -- the eastern tunnel is still available.