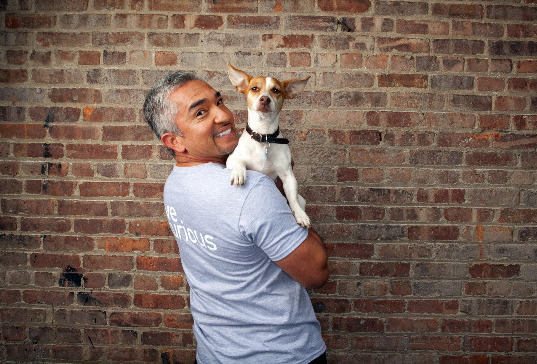 "Dog Whisperer" host Cesar Millan, TV's favorite canine shrink, offered some insight into the dog psyche during his screening and book signing at National Geographic Washington, D.C., last night.
"[Be careful that] kids and dogs don't control the country," he quipped. "Think: 'Supernanny.'"
Touting his new tome "Cesar's Rules: Your Way to Train a Well-Behaved Dog," Millan, whose show airs on Nat Geo, said his love of dogs developed during his childhood on his grandfather's farm in Mexico and by watching "Lassie" and "Rin Tin Tin" on TV. After coming to the U.S., Millan developed a reputation for being adept at communicating with dogs.
So is a dog whisperer the same thing as a horse whisperer?
"The outcome may be the same through training, but dogs have consequences because we treat them like humans," Millan said.
We asked him to comment on first dog Bo, POTUS and the rest of the first family. While he hasn't actually seen any photos of FLOTUS or the first children with Bo, (he is going to Google them) he commented that a photo of Obama indicated that the dog was leading him. Stay tuned.
Millan, originally from Mexico and now a U.S. citizen, also weighed in on the immigration debate.
"Walls are not going to solve the problem, education will," he said. "Physical walls created from fear and anger create more of the same. "