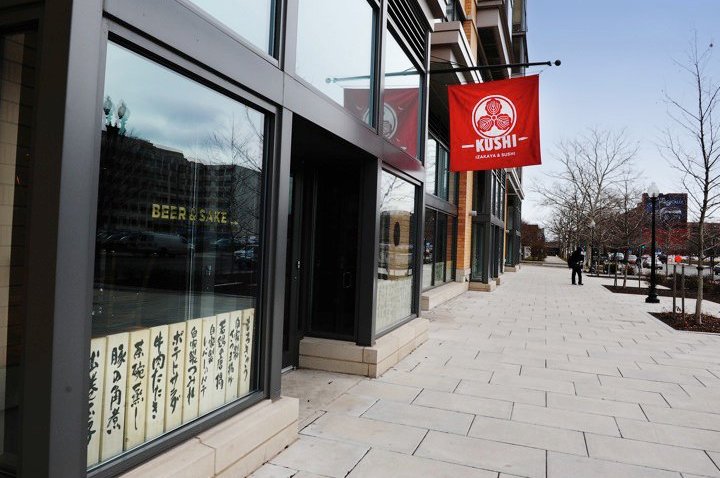 As the world continues to watch horrifying images of the earthquake and tsunami in Japan, several area restaurants are showing their support with fundraisers for the Japanese Red Cross and other charitable causes. But for the owner of Kushi (465 K St. N.W.) Ari Kushimoto Norris, the tragedy resonates on a much deeper level. Norris returned home from a month-long trip to Tokyo on March 10, one day before the earthquake struck. Read more at The Feast.
Want to do your part? Some local restos are donating a portion of your bill to help those affected by the earthquake and tsunami in Japan. See the list at The Feast.
In celebration of St. Patrick's Day, Chef Geoff's is offering $5 pints of Guinness at all its locations (Wesley Heights, Downtown, Tysons), as is Lia's in Friendship Heights on Wednesday, March 16. If you're looking for stuff to do on the big day/night (i.e., March 17), click here.
Top dog one day, on the bottom the next. At least it seems that way in the D.C. restaurant world, as Cochon 555 winner Scott Drewno of The Source (

575 Pennsylvania Ave. N.W.)

was unseated in Ba Bay's

Banh Mi Throwdown on Monday night by Haidar Karoum of

Proof (775 G St. N.W.)

.

His winning banh mi included pork shank terrine, head cheese, pork roll, five spiceroast shoulder, and traditional garnishes on a house-made ciabatta roll. More details at The Feast.

Magical Elves Productions culminated their nine-city search for the cast of next season's "Top Chef" and "Top Chef: Just Desserts" on Monday. After a long day of interviews, we caught up with Casting Producer Donna Lee, whose food-and-TV background makes her especially qualified to pluck winners from the mixed bag. Read the full interview here.
---
Let's Go Around Town: Keep up with what's happening in the D.C. area anytime, anywhere. Follow us on Twitter and Facebook. Sign up for our e-mail newsletters and find out What You're Doing Tonight with texts delivered right to your mobile phone -- just text DCTONIGHT to 622339 to sign up. (Message and data rates may apply.) Don't forget our iPhone app!