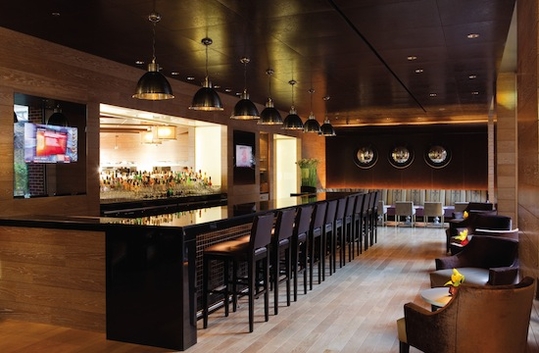 Ask for the $7 Smoke n' Stout special at Bourbon Steak (2800 Pennsylvania Ave. N.W.) for an artisanal half-smoke from Red Apron with a pint of Moo Thunder Stout from Butternuts Brewery. This is the winter incarnation of the restaurant's popular hot dog summer special, available in the bar and lounge Mon.-Thur., 11:30 a.m.-11 p.m, Fri. 11:30 a.m. to midnight, Sat. 5:30 p.m.-midnight, and Sun. 5:30-11 p.m. See more deals here at The Feast.
Chef Art Smith (Table Fifty-Two, Art & Soul) has had a whirlwind year, from working his local charity Common Threads, to palling around with Muppets to promote healthy eating habits. Now The Chicago Tribune reports that he's already onto the next big project: He's launching a healthy fast food chain called Lyfe Kitchen this summer. The chain will debut in California, with plans of expanding to at least 250 locations across the country. The Feast has more details here.

Chef Joe Raffa of Oyamel shows us how to make the restaurant's taco de acelgas, a blissfully meat-free taco with swiss chard, potatoes, and a sofrito of tomatoes, onion, and jalapeño. Though the dish was originally created for the Mexican celebration of Día de Los Muertos, or Day of the Dead, which falls on Nov. 2, it has remained on the menu because of its positive reception. See the video here.