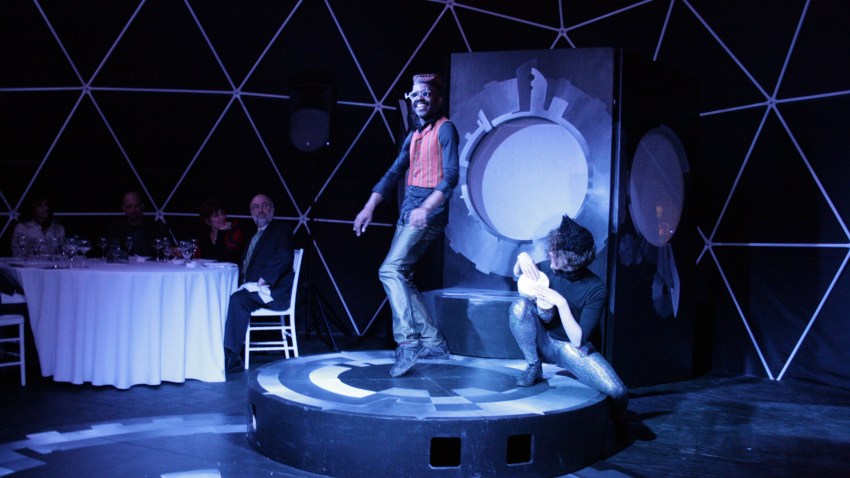 The much-hyped pop-up dinner theater Sensorium from chef Byron Brown opens at the Yards Park. We gave you a look at the offerings a few weeks back, and now here's the field dispatch from our preview over the weekend. Picture a dinner party thrown by the Mad Hatter -- elastic performers contort their bodies and voices in ways both beautiful and odd. However, some kinks still needed to be ironed out during previews: The timing of the food was an issue. Dishes are to be accompanied by performance vignettes, but this weekend, were cold by the time the command was given to eat. The food's presentation, however, is pure whimsy. Read more at The Feast.

Ah, brisket. That fatty cut of beef is one of our favorites, and many different cultures feel the same way. When braised, it's a traditional Passover dish in Jewish culture, but when rubbed with spices and barbecued it's a Southern delicacy. Asian cultures offer even more types of preparations. In anticipation of Passover, we've compiled a list of our fave local briskets.
Screwtop Winebar (1025 N. Fillmore St., Arlington) is offering $5 off wine flights until 7 p.m. Thursday night. Find more deals at The Feast.
---
Let's Go Around Town: Keep up with what's happening in the D.C. area anytime, anywhere. Follow us on Twitter and Facebook. Sign up for our e-mail newsletters and find out What You're Doing Tonight with texts delivered right to your mobile phone -- just text DCTONIGHT to 622339 to sign up. (Message and data rates may apply.) Don't forget our iPhone app!