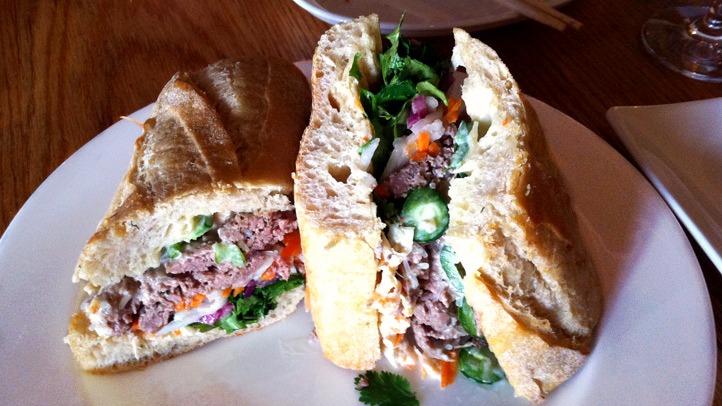 News broke yesterday that Ba Bay (633 Pennsylvania Ave. N.W.) is hosting a "Banh Mi Throwdown" on Monday, March 14, and The Feast has the exclusive on chef Nick Sharpe's game day strategy. Below, he sizes up his competition, which hails from Proof, Lyon Hall, PS 7's, The Source and Dino.

"I'm just going to go with the classic. Keep it simple with a livery mousse and sliced pate," said Sharpe of his submission. "For us, the biggest challenge is fitting six chefs and their assistants in our kitchen... we're all going to be very good friends after this event." Read more at The Feast.

You can get $50 worth of German goodies for $25 at Biergarten Haus (1355 H St. N.W.) through Groupon. Enjoy traditional dishes like wienerschnitzel, pretzel rolls, and a side of sauerkraut. Click here to take advantage. See more deals at The Feast.
Hunter Braun -- casting producer for "Top Chef" and "Top Chef: Just Desserts" -- about Day 1 of nationwide casting at Colicchio & Sons. Turns out if you have trouble controlling your bowels your chances of being cast soar. Read the interview here.

---
Let's Go Around Town: Keep up with what's happening in the D.C. area anytime, anywhere. Follow us on Twitter and Facebook. Sign up for our e-mail newsletters and find out What You're Doing Tonight with texts delivered right to your mobile phone -- just text DCTONIGHT to 622339 to sign up. (Message and data rates may apply.) Don't forget our iPhone app!