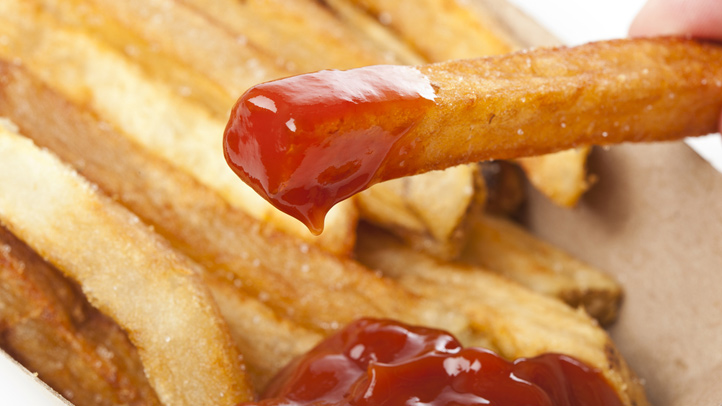 I have a great affinity for bar and restaurant owners who branch out of their normal comfort zones and take a risk. For instance, Dirty Martini (1223 Connecticut Ave. N.W.) has built a reputation for tasty drinks, solid small bites and a party atmosphere.
But one thing I have never known Dirty Martini to be is a "go-to" destination restaurant. Recently, they invested time and energy in a new fall menu in the hopes of building that reputation.
Tried-and-true happy hour favorites from their Small Plates Tidbits & Morsels section remain. I ordered both the saffron mussels ($12) and the DM Signature Fries sampler ($12).
The PEI mussels are made with fresh garlic, shallots and saffron broth. The mussels were decent, slightly bland, but then there was the butter garlic-garnished bread it's served with. That helped add a burst of flavor.
Since I'm on a mission to find the best fries in D.C., I never pass up a chance to order them. The fries sampler had three varieties: Yukon gold potato fries (doused with truffle oil and grated parmesan cheese), sweet potato fries, and eggplant fries.
The addition of the eggplant fries was an unusual venture away from the tried-and-true -- and it was a successful risk. Without question, the eggplant fries were the standout, and the accompanying tomato sauce made the perfect compliment.
As for the next course, I tried the Lamb Chops ($26) and the Dirty Martini Pasta (MP). For its price point, the lamb chops were slightly disappointing.
The chops were marinated and seared with red zinfandel-hoisin and cranberry sauce. I don't know whether it was the wait service or the kitchen, but the lamb chops arrived below room temperature. Also, the sauce was slightly too sweet.
Usually the accompanying vegetable would balance the meat and sauce; unfortunately, the potatoes au gratin were a bit undone, with a crispness that rivaled a potato chip.
I did love the Dirty Martini Pasta, though. The chef's choice that day was a penne, mixed with a gorgeous tomato sauce, sun-dried tomatoes, six jumbo shrimp and splashes of spinach. The balance of pasta (which was above room temperature, as I think it should be), sauce and ingredients made a great medley.
I wasn't a fan of the dessert so I'm not even going to bother mentioning it, but as you would expect from Dirty Martini, the drink menu is standout.
My favorite was Freezing Heat ($13). Made with Grey Goose Le Citron, lemon juice, passion fruit puree, cayenne pepper(!!), honey and a lemon peel, it was a refreshing mix of sweet and sour, with a healthy kick. I'm definitely adding this to my repertoire of signature cocktails.
Overall, I left Dirty Martini with the same impression I had before I went there. It's still a great place to get both drinks and small bites. As for dinner... while I appreciated the new additions to the menu, I don't know if I would consider Dirty Martini just for its food.