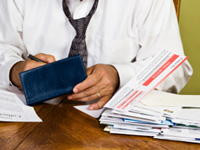 Owe the District of Columbia back taxes? Well, time is running out if you want to clear the slate without penalties.
D.C.'s tax amnesty program expires Thursday.
The amnesty program means you don't have to face additional collection fees or prosecution.
"The last District amnesty was held in 1995, so it is likely to be some time before there is another opportunity," warned
Stephen M. Cordi
, deputy chief financial officer for the District's
Office of Tax And Revenue
(OTR).
To accommodate last minute filers, OTR's Customer Service Center at 1101 4th Street S.W., Suite 270W, will remain open until midnight on Thursday.
If you get there before 5:30 p.m., you can get help filling out your returns. After 5:30 p.m., only completed returns and payments will be accepted.
You can also mail your forms and payments – just be sure they're postmarked Sept. 30 - or file on line at
www.dctaxamnesty.com
.
If you owe money and you don't pay now – the tax man will get you later.
For employed debtors, the money owed will be deducted from your paychecks beginning January 2011.
Ouch.
Call 202-727-4Tax for more information.