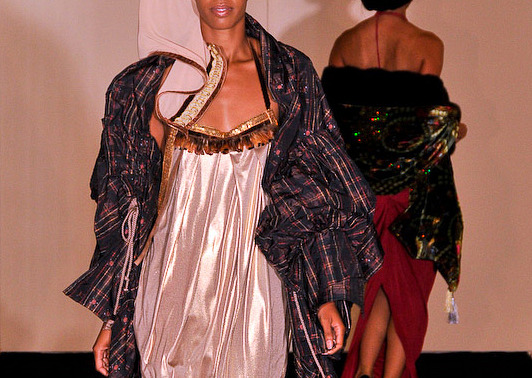 Forget the tents, front-row exclusivity and all there is to envy about New York Fashion Week. Although D.C. Fashion Week is no Bryant Park destination, at least we can say the District has slowly evolved into a fashion-forward city, and yes -- our fashion week rocks just like any other.

Running today through Feb. 21, D.C. Fashion Week hosts a series of events that will take place throughout the city. Some will be open and free to the public; others will require a ticket, but nonetheless there's nothing that's invite-only.

An eco-friendly and fair trade fashion show is a particular highlight, and it's happening at the Textile Museum (2320 S St. N.W.) tonight at 7 p.m. The show will showcase pieces made of organic materials, alternative fabrics and natural dyes, all in an effort to minimize the designers' fashion footprint.

Plus, D.C. just might take the title for uniting international fashion. The week will close with the International Couture Collections show at the Embassy of France (4101 Reservoir Road N.W.) this Sunday, Feb. 21 at 6 p.m. Designers from Nigeria, Pakistan and Iran, among others, will come together to show their craft.

Head to one of the events during the week or all for that matter, just support fashion in the city -- you may realize there really isn't much to envy about big city fashion shows.