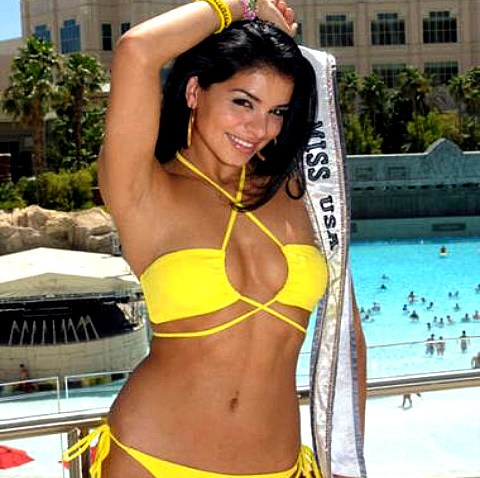 Tala Raassi once wanted to be a lawyer. As she explains, it was because "I talk a lot and always get my way!"
Growing up in Iran, she'd never thought she'd have the freedom to design clothing -- least of all swimwear. "I used to cut up fabrics and make clothes for my Barbies and paid more attention to fashion magazines than my school books," said Raassi.
Raassi, born in the United States but raised in Iran, moved to the D.C. area following an incident that left her marked, literally and figuratively.
"I wrote a story [about it], 'Crime of the Miniskirt,' and submitted it to Marie Claire," said Raasi, now in her late twenties. Her article, published as "How I Survived 40 Lashes," is her real-life account of being punished for wearing a miniskirt when the police broke up her 16th birthday party in Iran:
I hated that my family had to hear my lashing; the police wanted our parents there to teach us all a lesson. The beating lasted for what felt like an eternity. In reality, it was over in 10 minutes. Those 10 minutes changed my future.
Flashforward years later, and her outlook on freedom of expression has enabled her to embrace women's freedom in fashion. With the launch of her swimwear line Dar Be Dar, her goals are on the fast track. As the official swimwear sponsor of the 2010 Miss Universe Pageant, she's diligently preparing to have all 80 contestants clad in her own designs, live from Las Vegas on Aug. 23.
Raassi said that the incident in Iran made her appreciate what is often taken for granted. "These things happen all the time to women around the world," she said. "I realize that freedom is really everything."
After her article was published in February, a Miss Universe contestant e-mailed her, asking to wear one of Raassi's swim pieces in the pageant.
Raassi read the e-mail, turned to her public relations rep and nonchalantly asked, "How cool would it be to sponsor the entire Miss Universe?" To her surprise, the president of the Miss Universe Organization had also read her story, and got in touch.
"Dar Be Dar is Persian slang; it means door-to-door, someone who is all over the place and kind of lost," Raassi said. "I had to go door-to-door -- literally -- to figure out how to build a business and make a brand... it represents me as a designer."

Her inspirations for her collections come from ideas ranging from the colors on a stranger's T-shirt to the colors of nature. With her swimwear line showcasing on what will be her biggest platform yet, her inspiration is far from running dry.

Raassi believes that when something is meant to happen, doors just open. "They thought that if anyone should design the bathing suits for Miss Universe. it should be me, because they wanted to use my story to empower women," she said.
Miss USA 2010, Rima Fakih, is pictured here wearing a Dar Be Dar swimsuit.
---
Let's Go Around Town: Keep up with what's happening in the D.C. area anytime, anywhere. Follow us on Twitter and Facebook. Sign up for our e-mail newsletters and find out What You're Doing Tonight with texts delivered right to your mobile phone -- just text DCTONIGHT to 622339 to sign up. (Message and data rates may apply.) Don't forget our iPhone app!