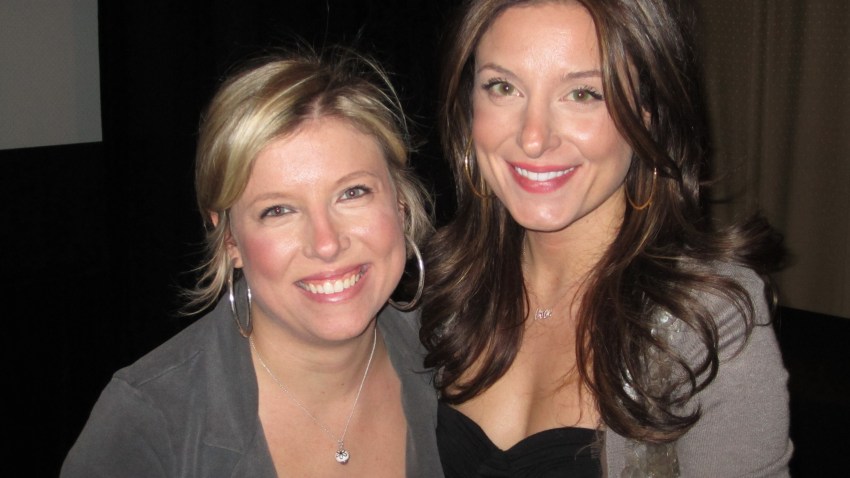 Katherine Kallanis and Sophie LaMontagne, the sisters who own Georgetown Cupcake, kicked off season two of their TLC show "D.C. Cupcakes" with a special premiere screening. Of course, Sunday night's festivities at Yachad's Our City Film Festival also included a cupcake decorating contest.
"That was the first time we ever saw [the episode] too, and it was pretty true to life," said Kallanis of the evening's entertainment, which included the sisters responding to a challenge to create a larger than life glow-in-the-dark cupcake guitar for a Sweet Sixteen birthday.
"For a lot of our episodes, we are successful, but there is one in this season where we aren't," she said. "It's a lot of trial and error and a lot of struggle involved. Sometimes things don't go as planned.... There are some moments when I wish I didn't act like I did in that situation... But you're seeing what it's really like to work together as sisters. How we've intereacted our entire lives together has kind of been a comedy show."
Of course, neither sister thought when they traded in their careers they'd end up with a show on TLC and customers forming lines down the street.
"We thought it would just be the two of us sitting around, frosting cupcakes in our tiny little shop on Potomac Street," LaMontagne. "Little did we know how busy we would be. After this event we're probably going back to the shop and getting ready for Valentine's Day tomorrow!"
The second season of "D.C. Cupcakes" premieres on TLC this Friday, Feb. 25 at 10 p.m.