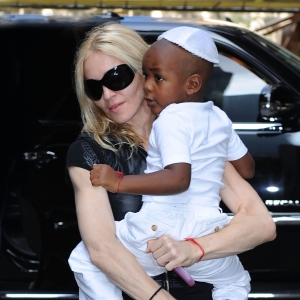 The fallout from Madonna and Guy Ritchie's divorce has reportedly reached Malawi.
"I am still a poor farmer with nothing to offer, but maybe he would be better off back with us," Yohane Banda, the biological father of Madonna's adoptive son, David, told The Sun upon hearing the divorce news. "This is a new and terrible thing to happen to him."
David was placed in an orphanage after his biological mother died when he was just over a month old, and adopted in 2006 by Madonna, who received Yohane's blessing at the time.
"It feels like yesterday that Madonna promised me a happy life and good education for him. I thought she would take him away from the danger of malaria and other diseases that kill children here, and that she would let me know that he was happy," Yohane said
[ VIEW THE PHOTOS: Hollywood Divorces ]
Yohane now reportedly has a new family – wife Flora and her daughter Tiyamike, 3, and the couple's baby son, Dingiswayo – but his mind is still on his oldest son.
"I have the joy of a new family and I even have a new son. But now when I think of David in danger of living outside a family life I find it unbearable, I find it hard to believe God intended this," Yohane told The Sun.
He was especially critical of David's exposure to the craziness of public life with Madonna.
[ VIEW THE PHOTOS: Celebs Who Opt To Adopt ]
"This woman Madonna told me herself that David was beautiful and made her happy and she promised to take good care of him," he said. "Now I see him in a big bewildering crowd in the street with people pushing and shoving, and many cameras around, and without a mother and father to hold his hand. I'm feeling bad for him."
And, the father finished, he claimed he hasn't heard a word about David from the Material Mom.
Related Content from AccessHollywood.com:
PLAY IT NOW: Will Madonna's Divorce Affect Daughter Lourdes?
PLAY IT NOW: Did A-Rod Breakup Madonna & Guy?

MORE ACCESS ON THESE TOPICS: Madonna - Adoption - Parenthood - Divorces - Celebrities

Copyright NBCAH - Access Hollywood