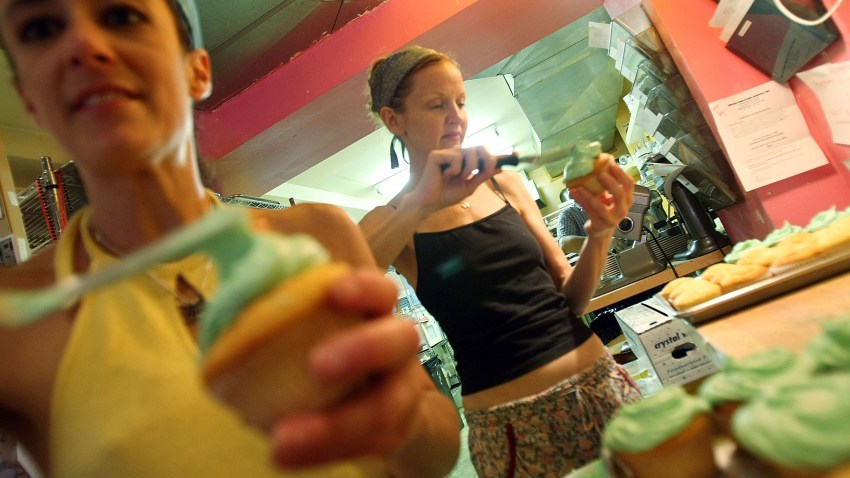 So today is National Cupcake Day. Now, we'd prefer it if every day is Cupcake Day -- and there have been weeks where it seemed like that was true. (We have a battle plan of finding parking spaces near Baked & Wired that's so ornate, generals could learn from us.)

But DCist has decided that since none of the area's 3,700 cupcakeries are giving out free cupcakes today, "the cupcake trend is dead."

This seems like faulty logic to us. All kidding aside, the fact that more than a dozen cupcakeries are operating, and none of them have yet to go out of business -- points to the fact that the trend is far from dead. In fact, why should any of them give out freebies? They simply don't have to; business is robust enough without having to drum up more.
Yeah, yeah, bah humbug. The cupcakeries are in this for profit.

When the first one closes its doors, we'll be forced to start considering the trend in decline. Until then, as long as the market supports Baked & Wired, two Georgetown Cupcakes, Sticky Fingers Bakery, Crumbs Bake Shop, Curbside Cupcakes, Hello Cupcake, Somthing Sweet, two Red Velvet Cupcakeries, Love Cafe/CakeLove, SweetBites Mobile, Bakeshop and Frosting, ...deep breath... what were we talking about again? This sugar coma makes it so difficult to think.