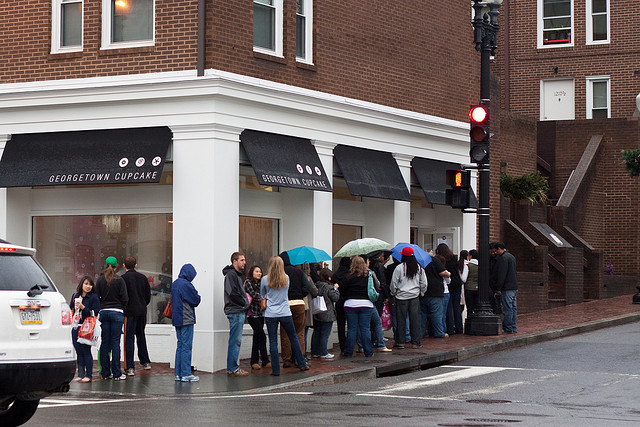 Every time Georgetown Cupcake makes the news, the detractors shake their fists: The cupcakes aren't worth the wait, they're overrated, Baked & Wired/Hello Cupcake/(enter favorite bakery here) is better, bake your own stinkin' cupcakes.
When we mentioned last week that a bouncer stands outside the shop now, more feedback came in. The Washington Post even received a response from the cupcake sisters themselves, who own and run the shop. They told the Post that even though everyone calls the position a bouncer, it's really more of a greeter -- someone to hand out menus, guides the line and directs traffic.
So instead of a 300-pound body builder to boot you out of line for bad behavior, think smiling college-age cupcake fan ready to expedite your Georgetown Cupcake experience -- as much as he or she can when there are 100 people in line.
---
Let's Go Around Town: Keep up with what's happening in the D.C. area anytime, anywhere. Follow us on Twitter and Facebook. Sign up for our e-mail newsletters and find out What You're Doing Tonight with texts delivered right to your mobile phone -- just text DCTONIGHT to 622339 to sign up. (Message and data rates may apply.) Don't forget our iPhone app!