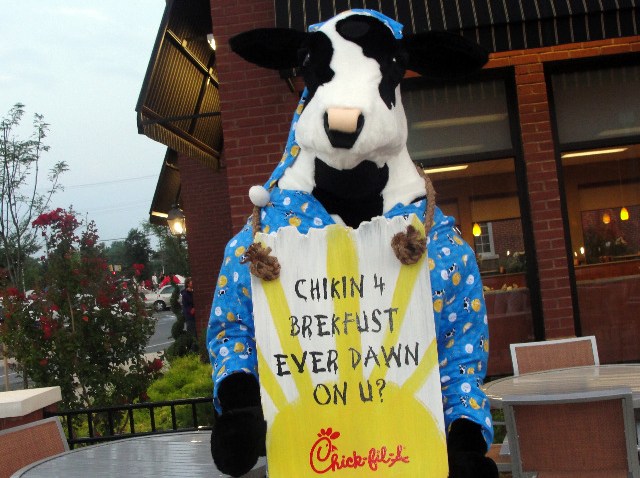 People from all the country camped out in Silver Spring... not for tickets to a hotly anticipated movie. Not for the latest gadget from Apple. They were trying to get free chicken. Seriously.

A new Chick-fil-A opened Thursday, drawing people from as far as Louisiana. The new store, located at 12289 Tech Road, is the 20th store to open in the D.C. area.

The first 100 fans in line at the store would receive free chicken for a year. But the event garnered so much attention that store owners had to select those hundred via raffle. About 250 people came to the store, and 150 were sent away. But those who were selected fans... Well, let's just say they were in for a nice treat.

Fans first started arriving at 5 a.m. Wednesday. Brian Ngey, of Severn Md., was the first fan in line, selected by raffle. This is Ngey's second campout for free chicken, and he said it's worth the drive -- and the wait.

"I couldn't believe I was selected to be number one," he said. "I had to recheck my number of couple times. But all in all it was worth it. Having free food is great and hanging out with a hundred other people was the best experience."

Ngey did admit it was a long, hot night. After he got his vouchers, he said he was going to take a shower and head to work. We're guessing he was pretty tired at work.

But for some fans, it's not even about the free food. It's about the people they meet and the customer service that Chick-fil-A brings across the nation.

Libby Knutp, of St. Petersburg, Fla., has been to 55 other grand openings. This opening will count as her 56th, and she doesn't plan to stop any time soon.

"I don't know anyone personally that has been to more openings than myself and my husband, and the only way I would stop going to these events, is if I was pulled away on a stretcher," Knutp joked.

Knutp said for the next five weeks, she plans to take her husband and Cadillac and head down the road from state to state for the openings.

Fans who waited since the wee morning hours could have been bored, but event organizers made sure they were entertained throughout the day. Fans kept cool with a water balloon toss, and were even treated to dinner. A DJ spun tunes the entire time.

Erik Amick, owner/operator of the new Chick-fil-A, said he was excited to see a new store open up in the newly rivitalized city of Silver Spring.

"I'm very, very excited that this new Chick-fil-A brought out raving fans, and I'm so grateful that so many people came out for some free chicken," said Amick.
---
Let's Go Around Town: Keep up with what's happening in the D.C. area anytime, anywhere. Follow us on Twitter and Facebook. Sign up for our e-mail newsletters and find out What You're Doing Tonight with texts delivered right to your mobile phone -- just text DCTONIGHT to 622339 to sign up. (Message and data rates may apply.) Don't forget our iPhone app!