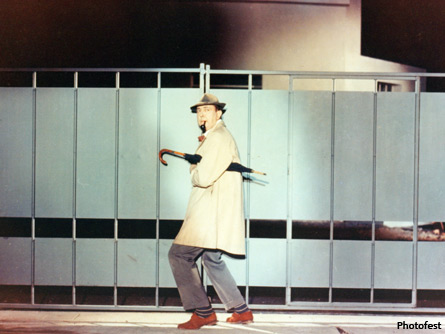 It was 1958 and Jacques Tati already saw the coming issues as man modernized his home. Thus was born "Mon Oncle," a feature length comedy about a man who wreaks havoc as he grapples with the modern conveniences of his nephews home. It won the Academy Award for Best Foreign Language Film in 1958. This showing is in English at 8:45 p.m. at AFI Silver Spring (119 mins.). Tickets are $10.
In "Expedition Wild," naturalist Casey Anderson introduces us to Brutus, an 800-pound grizzly bear. Casey takes Brutus back to the wild to see if a grizzly raised in captivity can find his inner beast. See it at the National Geographic Society for $8 at 7:30 p.m. (50 mins.)
Also showing:
"The Gift Of Pachamama." 102. mins. National Museum of the American Indian. 7 p.m. Free. (Discussion with filmmaker Toshifumi Matsushita follows.)
"Sweet Crude." 93 mins. AED Globe Theater. 6:30 p.m. Free.
"To the Sea." 73 mins. Inter-American Development Bank. 6:30 p.m. Free.
"Full Signal." 62 mins. Edmund Burke School. 7 p.m. Free.