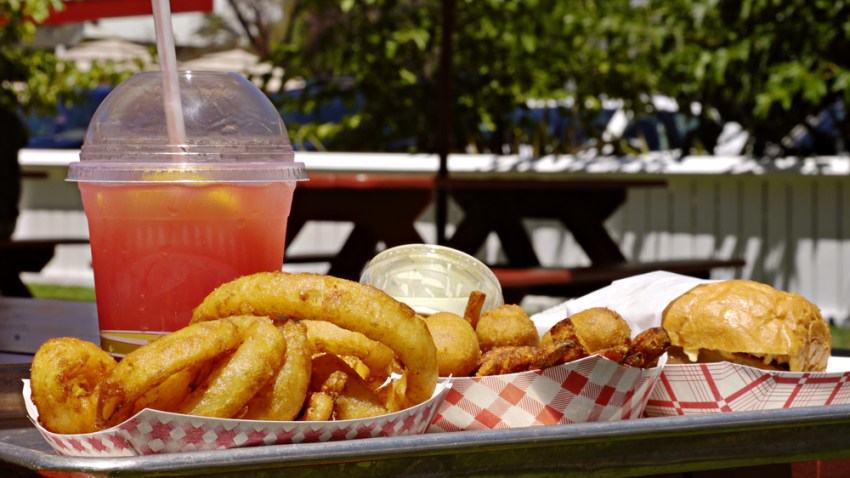 UPDATE: Due to the impending hurricane, Columbia Heights Day has been called off.

"It saddens us to say, due to circumstances beyond our control, the 5th Annual Columbia Heights Day Festival is cancelled," organizers posted on Facebook Friday morning. "Many of the companies and services that we rely on to present the festival are unable to perform their contracted duties for us, due to the potential of extreme weather. We sincerely apologize for the last minute notification, but our decision to cancel the festival is based on information provided to us this morning."
---
ORIGINAL STORY:

Stare down Hurricane Irene. STARE HER DOWN. Silently, coolly, inform her that she is not going to interfere with this weekend's necessary fried-food consumption. Nuh uh, no way.

Because Columbia Heights Day is Aug. 27, with live music on two stages, a dog parade, and -- gah! Even a petting zoo. Nooo, hurricane, NO. Bad.

Other events include the king and queen of Columbia Heights pageant; a cupcake-eating contest from Sticky Fingers Bakery -- oh, and naturally, food trucks will be out in droves. The event -- in conjunction with the D.C. State Fair -- is at Harriet Tubman Elementary Field (11th and Kenyon Streets N.W.).
The complete schedule (no rain no rain no rain) is as follows:
FIELD

10 a.m. -- free yoga class with Quiet Mind Yoga
2 p.m. -- Belladonna's Bohemian Belly Dance
5 p.m. -- BloomBars Presents: Zezeh Zax
MAIN STAGE

11:30 a.m. -- dog show
11 a.m. -- free Zumba class with Lola
12 p.m. -- performance by the cast of Arena Stage's "Oklahoma"
12:15 p.m. -- King & Queen of Columbia Heights
1:15 p.m. -- BloomBars Presents: Christylez Bacon & Washington Sound Museum
3 p.m. -- National Symphony Orchestra announcement
3:15 p.m. -- Luck Dub
4 p.m. -- Sticky Fingers' Cupcake-Eating Contest
4:15 p.m. -- Flex Matthews
5:15 p.m. -- The Chariots
ACOUSTIC STAGE

12 p.m. -- OTasty
2 p.m. -- Sweetbread Jim's
3 p.m. -- Potomac Bombs
4 p.m. -- Rene Moffatt

KIDS' ZONE

12:45 p.m. -- Challa
1 p.m. -- In Da Streets
1:45 p.m. -- BloomBars Presents: Ella
2:30 p.m. -- Young Women's Drumming Empowerment
---
Check Out the Scene: Keep up with what's happening in the D.C. area anytime, anywhere. Follow us on Twitter and Facebook. Sign up for our e-mail newsletters. Don't forget our iPhone app!