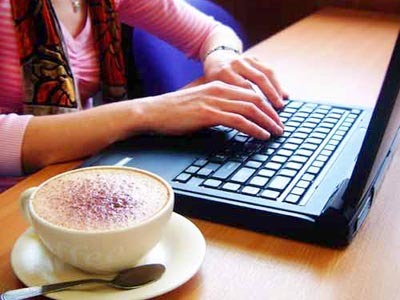 How many times have you wanted to smack that table-hogging, laptop-using coffee drinker who just sits there, well after he or she's done with their drink, while you're desperately looking for a place to park yourself and your things?
At least one coffeehouse in DC claims it has been actively wracking its brains on how to deal with "the economic impact" of these laptop patrons. Tryst's solution? "Don't Camp Alone."
It's the first part of the coffeehouse/bar/lounge's way of getting more from their laptop-using patrons. Guests who can't find a table are now offered the option of joining a laptop user's table.
Because those laptop users look real friendly, don't they?
But no.
"At first, we too viewed them as a threat to our coffeehouse culture and our bottom line," said Tryst general manager Stephanie Lair. "But once we decided to engage them we found to our surprise that they actually want to connect and socialize with others."
Not only that, but the owner of the 18th Street NW coffeehouse also insists there's a way to get laptop guests to buy more during their stay. They're just not going to reveal that "major Tryst initiative" right now because it's "classified top secret." (Has someone been working in DC too long?)
"Let's not kid ourselves; the economic environment is scary right now. But our patrons are not the threat!" said Constantine Stavropoulos.
Let's hope not.