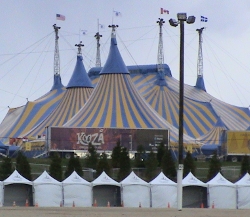 It's a magical experience with dazzling acrobatics and human bodies stretched beyond belief. But even with so many people stretching their dollars these days, Cirque du Soleil still managed to pack them in.
Don't forget, the show was at a new location in our area this time: the National Harbor. It's unfamiliar territory for most Cirque fans. Combined with the economy, it could have turned into a bad tumble for Cirque's new show, "Kooza," which ended its local run last weekend.
Tour officials, however, are rating it as a high-flying success.
"We are very pleased with ticket sales and the overall reception of Kooza in the Washington area," said Aba Kwawu, the public relations representative for the tour during this stop in Prince George's County. The show experienced sellout crowds and that's with few discounts.
Tickets sold for anywhere between $38 for a child up to $215 for the best adult seats. The big top seats more than 2,500 people. Ninety-two percent of tickets available were bought, according to Kwawu. That's 130,000 tickets sold.
Some audience members could simply be escaping all the depressing economic news.
"When the depression occurred, people wanted to get out, they wanted to get entertained ... and I have no doubt that's what people are doing now," said Kathy Casey, of Laurel, who bought tickets for herself and a friend.
"Everyone saves their money and spends it on what they like to do ... People still go to the movies even when things are bad," said Tijeerah Washington, of the District, who came to see the show for her birthday.
Business experts were keeping a close eye on how the show would do, wondering whether such a high-end escape can prosper during a recession.
"I think the Cirque du Soleil show is ... a good test of the question if consumers respond in a down economic climate by trying to get a little enlightenment by turning to entertainment," said Washington Business Journal editor Mike Mills.
Whether the National Harbor location would attract or keep visitors away was the question for Cirque as it scouted the area for a new location. The 300-acre development on the shores of the Potomac is home to sporadic openings of hotels, restaurants, and the centerpiece: the Gaylord National Resort & Convention Center, which just opened, back in April.
"That was the big unknown because it's so new," revealed Kwawa. "But it has not at all been a hindrance. There's a lot to do there … many people are coming right there from the National Harbor to see Cirque as well as those coming from across the river in Alexandria, Georgetown, and Prince George's County."
Scoring such a big show can only help put National Harbor on the map.
"We haven't really seen a lot of things opening there," Mills said. "Cirque du Soleil is a wonderful thing for National Harbor to pull people in and get to know this beautiful area."
Justin Sullivan, 26, plays the "Trickster" in the Kooza performance. He guides the main character, a man with the innocence of a little boy, on a magical journey through a fantasy land. The Trickster introduces him to all kinds of interesting and acrobatic characters.
"The show is selling really well here. We're still having great full houses here. Yes, these are tough economic times," Sullivan admitted. "But I think it's important that we all have a getaway … a release, a place where we can come and forget about all our worries."
So, has Cirque du Soleil managed to perform the most amazing act of all: defying an economic dive?
"I don't know if I can say we're recession proof or not," Kwawu insisted. "But I think it's a great way for people to escape."
The show started Oct. 30 and ran through Dec. 14. Next stop: Atlanta. It'll be in Baltimore in March.
*Video at top of your screen is promotional material provided by Cirque Du Soleil. This article was originally written by Michael Flynn for the Interactive Journalism program at American University.