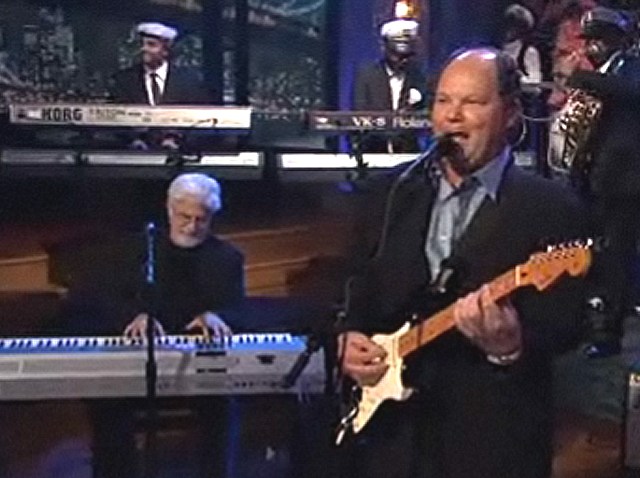 I take back anything bad I ever said about Doobie Brother Michael McDonald after he joined Christopher Cross and the Roots on Cross' yacht rock classic "Ride Like the Wind" on "Late Night With Jimmy Fallon" last week.
And I now understand why the Roots belong as the show's house band. I struggled with why hip-hop's greatest live band accepted the Fallon slot -- wondered why the brilliant group would sacrifice so much time to appear on the occasionally funny Fallon's talk show (OK, let's give him some more time to make his monologue's feel less uncomfortable) -- but behind Cross, they gave me my answer. The group demonstrated the proper sense of humor for the show and also displayed their unique talents in a new way, turning a cheesy '80s song into a compelling jam.
Fallon donned a captain hat and his (read: NBC's) best Judge Smails yacht club getup to introduce Cross from the audience, whose in-frame members also sported captain hats. Turn to the stage and the Roots, too, had the caps on, their fros peeking out. It's immediately intoxicating to see ?uestlove and the boys dressed as such -- and keeping their poker faces -- launch with precision into "Ride."
Shortly after the song began, McDonald took over keys and harmonized with Cross, as he did on the recording 30 years ago.
It's a surprisingly engaging performance.
Cross demonstrated good-natured wit on the web-only performance of "Sailing." Otherwise dressed in a shirt and coat -- no tie -- like an insurance salesman or real estate agent on a casual Friday, Cross also sported a captain hat for the Grammy-winning smash. And rightfully, he made sure Fallon acknowledged the Roots for the performance after thanking him.

Thanks to Jes for sending along the link.