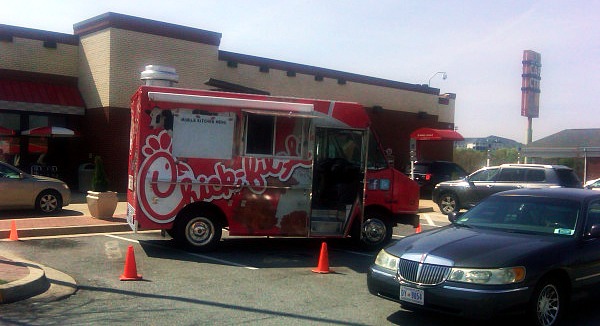 The long-anticipated Chick-Fil-A food truck has a new start date -- and it's coming up fast.
Originally scheduled to hit streets April 9, the truck is now set to hit streets Monday, June 4. Yep, a hot breaded chicken sammich could be in your hands THIS Monday.

Just to temper your joy a little bit, we though we should remind you that truck will have no waffle fries, no sweet tea and no lemonade.
You will be able to get sandwiches, nuggets, brownies and soda. Oh, and salads, if you care about that kind of thing.

NBC4's Darcy Spencer reported that the delay was due to adjustments that needed to be made to the truck. Local franchise owner Keith Singletary told Spencer they had to configure it to fit into a parking space, as city regulations require.
Singletary also spoke to CityPaper in April about the controversary over Chick-Fil-A's donations to groups that oppose gay rights. He told CityPaper that while he didn't expect any protests when the food truck gets rolling, it could happen.
"If that happens, we certainly can't control what others might do," he told CityPaper.

The truck had a soft launch at the Southwest Waterfront on Thursday, May 24. Stay tuned for more news as we get it.
---
Check Out the Scene: Keep up with what's happening in the D.C. area anytime, anywhere. Follow us on Twitter and Facebook. Sign up for our e-mail newsletters.