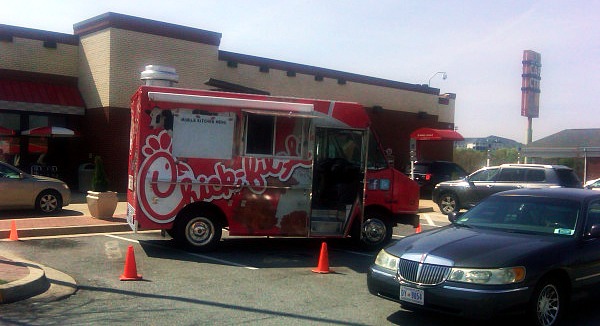 We thought this day would never come.

The hotly anticipated Chick-Fil-A food truck was supposed to hit streets April 9. Did we say April 9? We meant June 4. Acccctually, we meant July 9.

The new food truck spent its first day at Farragut North, and will be serving lunch from 10:30 a.m. to 2 p.m. each weekday from here on out. If you're in dire need of crispy sandwiches, you can monitor the truck's whereabouts on Twitter @ChickfilaMobile.
A soft launch at an event earlier this spring had people buzzing, but it still wasn't the same as being able to buy fried things on a corner outside your building at 11 in the morning.

A few things to note: The truck will have no waffle fries, no sweet tea and no lemonade. You'll be able to get sandwiches, nuggets, brownies, soda... and salads, if you're into that sort of thing. Weirdo.
---
Check Out the Scene: Keep up with what's happening in the D.C. area anytime, anywhere. Follow us on Twitter and Facebook. Sign up for our e-mail newsletters.