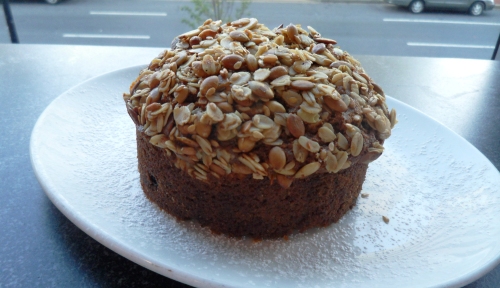 Remember the whole brouhaha about the Justice Department effectively shelling out $16 per muffin at a recent conference.
Urban Daddy now points us to a place where you, too, can get a crumby confection with a price tag soaring into the double digits.
Founding Farmers (1924 Pennsylvania Ave. N.W.) is offering what it's calling the "24K Jumbo Pumpkin Muffin," a ginormous mound of cranberries, raisins and pumpkin seed granola that's big enough for two. The off-menu, limited-quantity item is available during Sunday brunch service throughout October.
The kicker: "And unlike the Justice Department's hotels, they'll even throw in the coffee -- a two-person French press of Intelligentsia organic."
Photo courtesy of Founding Farmers pastry chef Courtney Goldian
Chew On This, Wasteful G-Men: A Real $16 Muffin at Founding Farmers was originally published by Washington City Paper on Oct. 3, 2011.
Copyright CITYP - Washington City Paper