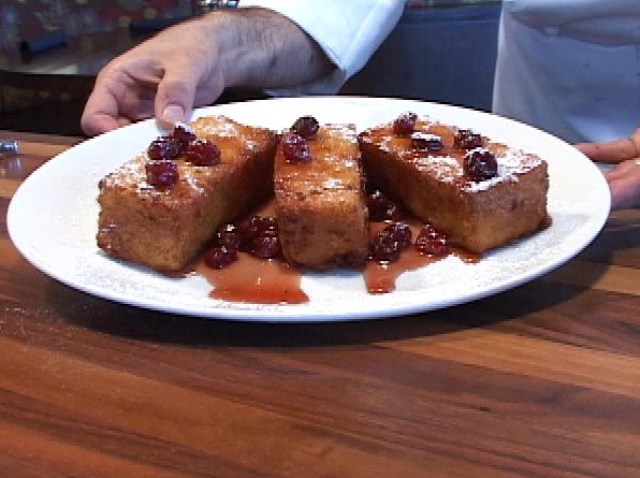 At this year's Cherry Blossom Festival, there's more to enjoy than just the trees. Tourists and locals alike can also sink their teeth into some tasty cherry treats.
Though the cherry blossom trees don't actually bear their namesake fruit, over 70 restaurants in the D.C. area are whipping up some delicious and inventive cherry blossom-inspired tasting menus and menu items.
"It actually brings the community together," said Executive Chef Al Nappo at Founding Farmers on 20th Street and Pennsylvania Avenue. "Everybody just kind of wants to get out. We had a really long winter this year so everybody's excited to get outside and celebrate something that's indigenous to Washington, D.C."
Nappo created a special Chocolate Cherry Stuffed French Toast that was featured over the Easter weekend.
Also at Founding Farmers is Pastry Chef Melanie Parker's Cherry Beggar's Purse, a cherry and almond cream pastry served with more fresh cherries, chocolate sauce and vanilla ice cream. The dessert has been a crowd favorite for several weeks now, but won't be around for much longer. Parker said she has already gone through 60 pounds of cherries in the last three weeks.
Not all the cherry dishes are sweet though.
At TenPenh Restaurant on 10th Street and Pennsylvania Avenue, Executive Chef Clifford Wharton is offering a four-course cherry blossom tasting menu that pairs cherries with some more unusual foods. The meal consists of a pan-seared scallop with a cherry sambal and a black bean garlic sauce; a Hudson Valley foie gras with a bacon-cherry jam, sticky rice and cherry vinegar; a Chilean sea bass with a cherry chutney; and a chocolate cookie cake with ginger cherries and cherry ice cream.
Wharton said his cherry menu has been doing extremely well this year.
"There's so much going on in the city right now, and a lot of restaurants I've noticed this year are participating in doing more cherry blossom menus than have before in the past," he said.
TenPenh's tasting menu will be available through the end of the Cherry Blossom Festival on April 11.
For the cherry enthusiast who doesn't have time to sit down for a full meal, the National Gallery of Art's Gellato Café is the perfect place to grab a sweet cherry snack. The café, which makes all of its gelatos in-house, is offering four flavors in honor of the cherry blossom season: cherry, cherry raspberry, pomegranate cherry, and cherry vanilla. They also have a Cherry clafouti, a miniature custard dish with sweet cherries. These cherry items will be at the National Gallery of Art's café throughout the spring season.
For a list of other restaurants serving up cherry dishes this season, visit the Cherry Blossom Festival's "Cherry Picks" Web site.