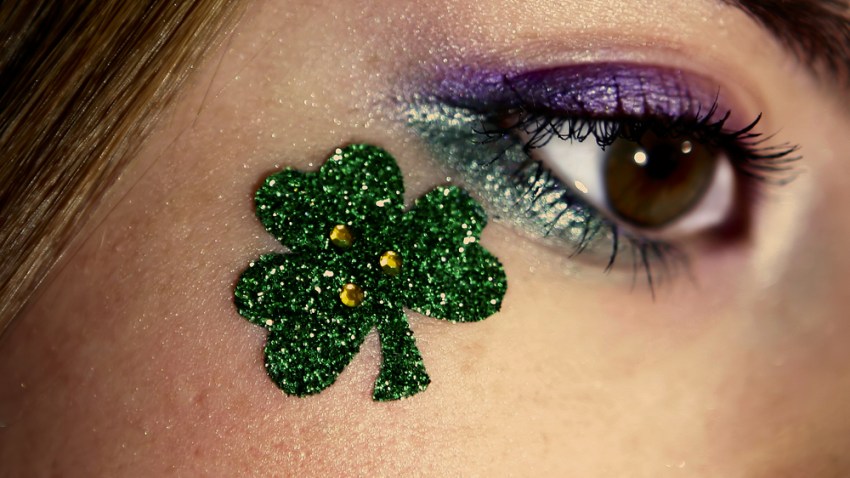 If you're in need of cheap SPD (St. Patrick's Day) gear, you don't have to look too far. Local stores are stocked up with cheap buys, trying to push their lowly winter sales upward.
One major department store seems to offer way more SPD items than their competition. Target has an isle full of cheap trinkets and clothing priced between $1-5, including green beads, shirts, socks and hats. I just picked up a green shirt last night for $5 ... can't beat that. Their online selection is ridiculously versatile, ranging from leprechaun costumes, to flasks, to light up buttons.

Another store with cheap gear is Five and Below. You'll find their shelves stacked with SPD temporary tattoos, bracelets, freezable pilsner glasses, beads, and shot glasses (they do not have an online store).
With SPD a little less than a week away, ordering online is still an option (with rush shipping). Here are a couple sites with reasonably priced unique stuff, from customizable shirts to guarder belts.

Wear Your Beer:
Koozies, lanyards, hoodies, and fitted t-shirts.
www.wearyourbeer.com

Spread Shirt:
Customizable Apparel.
www.spreadshirt.com

Zazzle:
Shirts, hats, buttons, and mugs.
www.zazzle.com

Just Irish Stuff:
Sunglasses, umbrellas, suspenders, guarder belts, bow ties and tiaras.
www.justirsishstuff.com


Five Below DC Locations:
www.fivebelow.com

Alexandria
7696 D Richmond Hwy.
Alexandria, VA 22306
703- 768-2101

Fairfax
9600 L Main Street
Fairfax, VA 22031
703- 978-0837

Silver Springs
13661 Connecticut Avenue
Silver Springs, MD 20906
301-598-2057

Fairfax
13005 Lee Jackson Highway
Fairfax, VA 22033
703-817-0480

Laurel
14260 A Baltimore Avenue
Laurel, MD 20707
301-490-5680

Bowie
3855 Evergreen Parkway
Bowie, MD 20716
301-464-5313

Woodbridge
2700 Potomac Mills Circle, Suite #144
Woodbridge, VA 22192
703-494-5805



More For Locals Only
• Find a Restaurant: click here
• Get Your Drink/Dance on: click here
• Quench Your Thirst With Our Happy Hour Guide: click here
• Eat Cheap in DC: click here
• Plan Your Night With Our Event Calendar: click here
• Music Snob's Concert Picks: click here
• Watch Our Celebrity Interviews click here
• Listen to Bands Perform Live in Our Studio click here