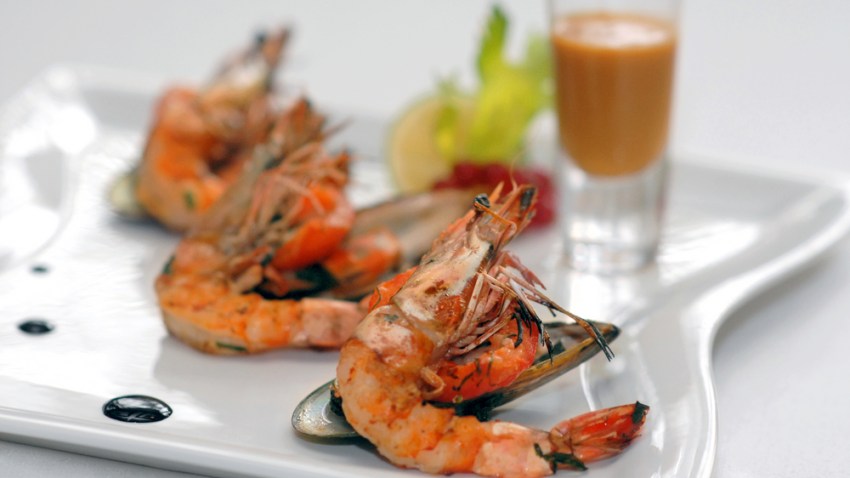 For those of us seeking a view as well as delicious food, the Georgetown scene has been overdone. Of course we have also made the requisite trek to Old Ebbitt Grill for their proximity to the White House as well as the (former) Hotel Washington for their purvey into the backyard of the President.
On a less chartered course is the Chart House Restaurant. Found on the wharfs of Old Town Alexandria, tucked far behind the street view fascade, the bustling yet still romantic seafood-oriented restaurant provides an equally compelling view: here of the newly built National Harbour as well as a slightly telescope view of the Capitol.
But what's the point of an arresting atmosphere if the appetizers are less than attention getting? Fortunately, the Chart House Restaurant has both eye-candy and mouth-candy.
For an appetizer, the "Crab Stuff Mushrooms" literally had me moaning with pleasure. Eight delicately opened mushrooms, stuffed to the overflow with hot shredded crab and served dribbled with a white wine sauce, makes this appetizer a first priority request.
Actually, I barely glossed over the appetizers, since what initially riveted my attention was this sweeping chocolate dessert being served at the table next to us. Our waitress informed us it was the "Hot Chocolate Lava Cake." Built around a molten center, this scrumptious cake is comprised of a Godiva Chocolate Liqueur, Dreyer's Vanilla Ice Cream and served with warm chocolate sauce and Health Bar Crunch. The complexity of this seemingly basic desert requires a 30 minute advance order so we ordered it alongside our appetizer and New Zealand white wine. Chocolate heaven.
For an entrée, I stuck with the basics of a "Herb Crusted Salmon." The chef prepared it with garlic mashed potatoes and pommery mustard sauce. The elegant presentation was made perfect with light, stringy onion rings gently placed on top of the side of mashed potatoes. Thankfully the salmon, a fish which can too readily be cooked too long, came not too soft and not too tough. It was easily perforated with my fork, but not so mutable it fell apart at first touch.
Dan ordered the "Chilean Sea Bass." The presentation of this buttery, white, flakey textured bass – broiled and lightly seasoned – was also excellent. My single taste of it was good; however, I was much more pleased with my salmon.
Menus change daily so check online if you will at their captivating website: www.chart-house.com.
Chart House Restaurant
One Cameron Street
Alexandria, Virginia 22314
703-684-5080
More For Locals Only