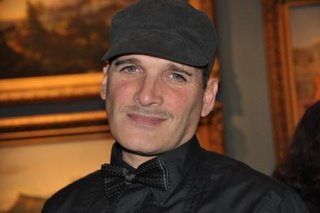 Celebrity Stylist Phillip Bloch was in Washington D.C. this week at Tyson's Galleria promoting his new book "The Shopping Diet." Bloch dishes on his most difficult clients, styling Michael Jackson for his final shoot and his upcoming reality show.
What is "The Shopping Diet"? I've worked in Hollywood for years, and I saw the influence that celebrities had on young people when it came to fashion. About five years ago, I developed "The Shopping Diet" concept. It was right around the time when kids were stabbing each other over sneakers and things like that. I wanted to write a book about fashion and how so many people were going in debt trying to be fabulous. At first years ago nobody was interested, but in these times people want to know where to get great clothes for less.
Have you always been in love with the fashion world? Yes, since I was a little boy growing up in Long Island, New York. My mom and grandmother loved to shop, loved clothes and I really got my fashion foundation from them. Well, my mom and grandmother and the movie "Mahogany." I wanted to be just like Diana Ross when I was a kid.
What are some memorable photo shoots you've styled? River Phoenix and Michael Jackson. They were there very last photo shoots that the gentlemen did before they passed away.
Who are some of your favorite celebrities that have effortless style? Definitely Sandra Bullock and Jennifer Aniston. Oh, and Halle Berry of course. You can put anything on Halle!
What has been your best and worse experience working with a client? Michael Jordan, LL Cool J, Boyz II Men have all been very hard to work with. Men are always the most difficult to work with. Prince was especially hard to work with. No one was permitted to make eye contact with him on set. As far as women go, Barbra Streisand, she can be not too easy to deal with when it came to styling. One of my favorite people of all time to work with always be Michael Jackson, he was kind and knew exactly what he wanted. Also, Meg Ryan and Jennifer Lopez -- I loved working with them!
Are the reality show rumors true for you? Yes! I can't say which network, but it's coming.
Will the show be anything like Rachel Zoe's? You know Rachel and I are great friends. A lot of people wanted me to do a show like that in the beginning, but it's tricky because you lose a lot of clients. Rachel has lost a few clients in the three years since she started the show. The thing that will be different about my show is I refuse to be cast how most people want me to be cast. I'm one of those guys who can go to the Oscars and then go to the hood and hang out with my friends. The show will definitely stand out.