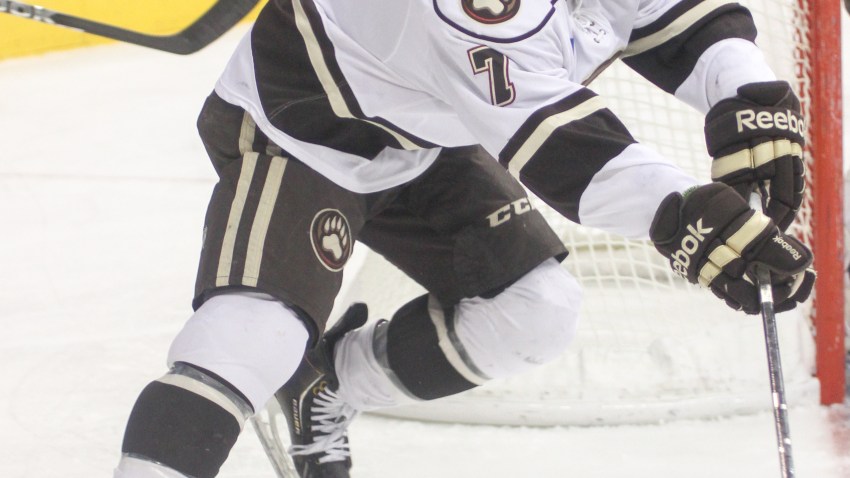 When the Capitals announced that they signed defenseman Steven Oleksy to a one-year contract and subsequently recalled him from AHL Hershey Monday evening, the move was met with some confusion. Washington already had seven healthy defensemen on their roster and the team had recently claimed a tough guy in forward Aaron Volpatti. (Oleksy leads the Bears with 151 penalty minutes.)
According to head coach Adam Oates, Oleksy, who makes his NHL debut Tuesday, was not brought up to serve as some sort of deterrent against the physicality that the Boston Bruins often employ, but to provide a left-handed/right-handed balance on the defensive end.
"To be able to exit the zone," Oates said when asked why such a balance was important to him. "I've seen goals every single night where guys get stuck on the wrong side and they can't make plays.
"As I've said all along, I really believe in balance," Oates continued. "And having three righties and three lefties is very important to me. Boston's a team that comes down the walls. They don't give you many second chances so you need that first play to be a good one. Having [Oleksy] in Hershey, he knows the system and he helps us with the balance."
The 27-year-old Oleksy shoots right and will be paired with the left-handed Tom Poti.
Meanwhile, the Capitals placed defenseman Roman Hamrlik on waivers Tuesday afternoon. The 39-year-old veteran has been scratched for all but four of Washington's 20 games this season. He is in the final year of a two-year, $7 million contract.
---
Follow Adam on Twitter @AdamVingan and e-mail your story ideas to adamvingan (at) gmail.com.