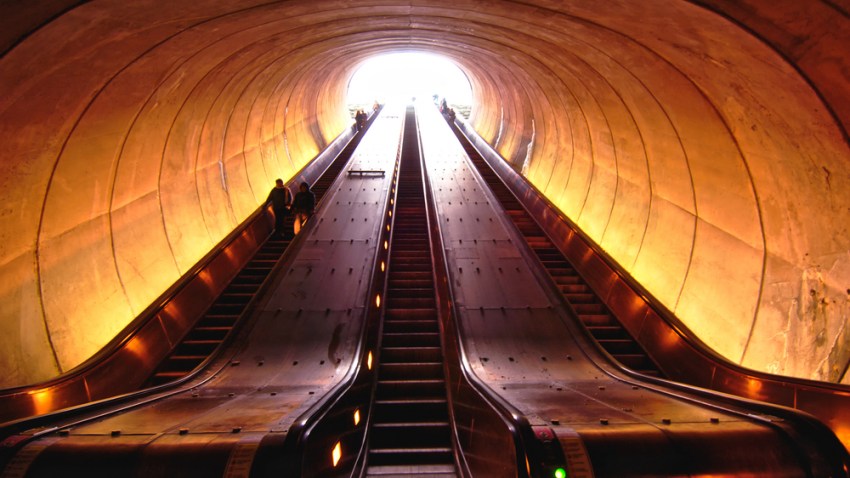 An architect's idea to build a cluster of hip art galleries in Dupont Circle's abandoned, underground trolley station is gaining support from community groups.
Julian Hunt said the 100,000 square feet of space below the landmark traffic circle could be built out with museum-quality lighting and ventilation for less than $6 million. Other features could be added later.
The D.C. government plans to issue a request for proposals in February to gather other ideas for the space, the Washington Post reported.
The last streetcar left the station in 1962. It has been abandoned since 1996, when a food court called Dupont Down Under failed after a short time. Greater Greater Washington argued in October that people weren't going to go out of their way -- and way underground -- for food but are more likely to do so for culture
Arts space could succeed where fast food failed. Food establishments rely on foot traffic for much of their patronage, and a dark, cavernous underground tunnel is not exactly the ideal dining space. The tunnel is curved, reducing sight lines. But exhibitions and performances typically don't want outside light, and people travel to them purposefully rather than happening by.
In the years since the food court's demise, several proposals for using the space have been offered, but developers have been reluctant to toss money into the hole.
D.C. Councilman Jack Evans said the gallery proposal has support from neighborhood groups. The nonprofit Washington Project for the Arts also is supporting the project.

Copyright AP - Associated Press