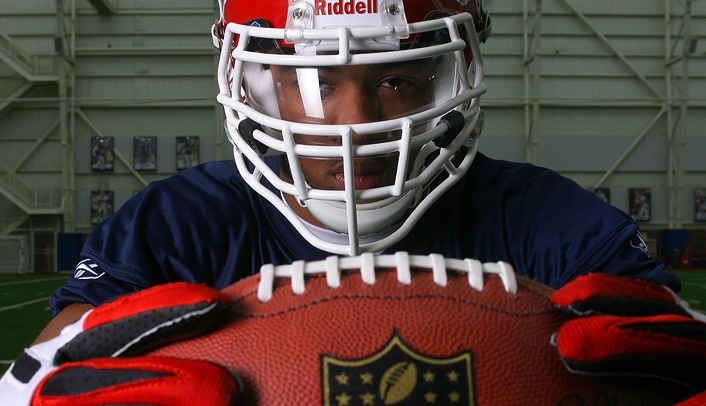 Maryland native and Buffalo Bills linebacker Aaron Maybin is hosting the Celebration of the Arts Gala this weekend in Baltimore. The event will showcase kids' art and a performance by the OrchKids orchestra. Maybin spoke to Niteside on why keeping art programs in schools is vital to the future of youth.

You're unique in that you are an extremely talented artist and football player. When and how did you fall in love with both?

Football and art have been a big part of my life ever since I could remember. As a kid, art was a release for me, and football was something I was good at and ran with. I couldn't imagine my world without them.

Do you remember the first time you picked up a paintbrush? Who helped you develop your skills?

From what my parents tell me, I was drawing when I was a baby. I'd put the pen on the paper and draw lines everywhere. I've had mentors over the years, but my stepmom has always been my best teacher.

Did art help you stay out of trouble as a kid growing up in Baltimore?

Definitely! The world would know a different Aaron Maybin if it wasn't for art. It helped me focus.

A lot of kids today are so easily influenced by what they see on television and even from their own peers. Why do you think it's important that kids have extracurricular activities?

If kids don't have time to dedicate to something productive, then they'll certainly find themselves in trouble. To those parents who are big fans of the arts, never take that away. There's nothing more important for our youth than exposure.

Schools right here in the DMV are losing funding every year for art programming. How damaging is that to the students?

Schools getting rid of art programs is not only damaging but dangerous to the future of our children. What you never want to do is limit a child's potential, and by removing art programs that's exactly what you're doing.

You are hosting a Celebration of the Arts Gala this weekend; what do you hope people walk away with?

I hope that people walk away with a better understanding of what Project Mayhem [my nonprofit to help kids] is about and that's exposure and celebration of the arts for our young people.