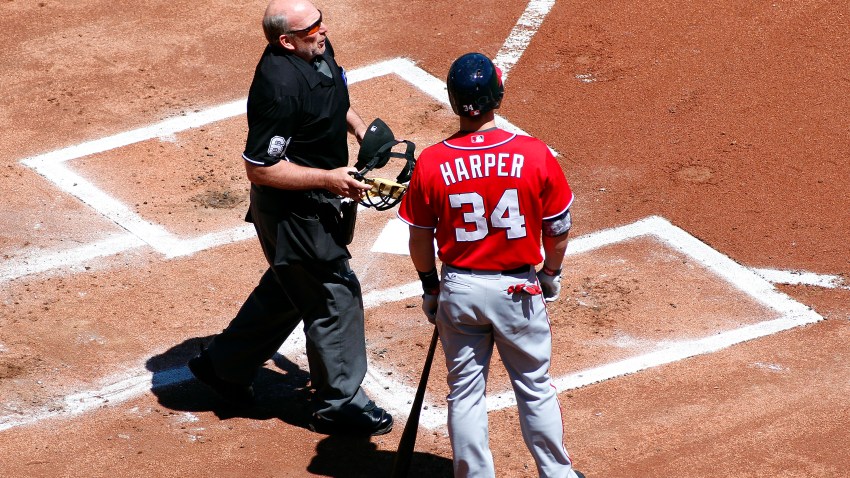 Bryce Harper has done many good things through the first month of the season, but what he did in the first inning of the Nationals' 6-2 win over the Pirates Sunday wasn't one of them.
Unless you like ejections. Then, in that case, it was great.
In his first (and only) plate appearance of the day, Harper attempted to swing at a 2-2 curveball from Pirates pitcher Wandy Rodriguez, but decided to hold up at the last second. The Pirates and home plate umpire Bob Davidson appealed to third base umpire John Hirschbeck, who decided that Harper did in fact swing and therefore struck out.
An incredulous Harper threw his hands to the sky in frustration, then he and Hirschbeck exchanged words before he slammed his bat and helmet on the ground. Hirschbeck had seen enough and assessed Harper his second career ejection.
"I didn't like that he put his hands up with the bat," Hirschbeck told reporters. "That's kind of what I yelled at him. He continued and threw his bat. I kind of pointed like, 'That's equipment.' And then, he still continued and slammed his helmet down. That's when I ejected him.
"I was actually just being nice. Even the hands up in the air is showing me up, to me. I could have ejected him right then. I was nice enough to leave him in the game. And then he slammed his bat down. And then on top of that, he slammed his helmet. I had no other recourse, really."
Harper had little to say after the game, adding that he wasn't "going to badmouth anybody or say anything I shouldn't say."
See? We all learn from our mistakes.
---
Follow Adam on Twitter @AdamVingan and e-mail your story ideas to adamvingan (at) gmail.com.