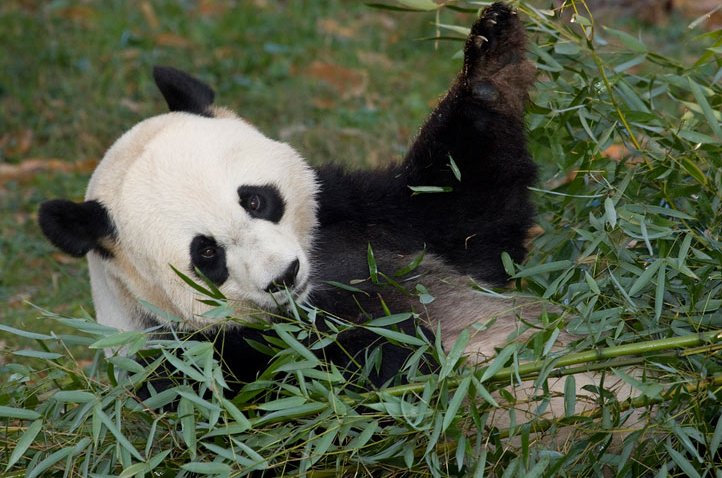 Mei Xiang is really letting it all hang out these days.

She's been sassily showing off her freckled belly for all to see on the National Zoo's pandacam. Shocking!

Before you all dismiss her as just another wanton panda, though, remember that the zookeepers are in on it, too:
...[K]eepers have been able to shave her closer than in previous years, allowing the Zoo's veterinarians to get a clearer ultrasound picture. Mei Xiang eagerly participates in ultrasound training twice a week, seemingly motivated by the pear and apple bits she receives as reinforcement, and the ultrasound gel that she rubs off of her belly and onto her ears after each session is completed.
Oh, well, sure, for pear and apple bits, who wouldn't?
Keepers are also working on den training with the we-really-hope-she's-preggers-this-time panda. The training involves removing a prized object from Mei Xiang's enclosure, and praising her when she doesn't try to interfere. "In the event of a twin birth, this is how keepers would retrieve a cub for supplemental feedings in the nursery," the zoo says, and the item is ultimately returned to her to enjoy at the end of the session.
But wait a second... twins are a possibility? The stakes just got a lot higher.
The giant panda's hormone levels began rising last week, signalling the beginning of a 40-50 day time frame that would conclude with either the birth of a cub or the end of a pseudopregnancy.
Since panda fetuses don't actually begin developing until the last weeks of a gestation period, it can be difficult or even impossible to detect a pregnancy via ultrasound. In fact, Tai Shan, the cub born in 2005, was never spotted via ultrasound.
Let's just cross our fingers that there is indeed a stowaway (or two) on board. Those repeated pseudopregnancies are just toying with our emotions.
---
Check Out the Scene: Keep up with what's happening in the D.C. area anytime, anywhere. Follow us on Twitter and Facebook. Sign up for our e-mail newsletters. Don't forget our iPhone app!