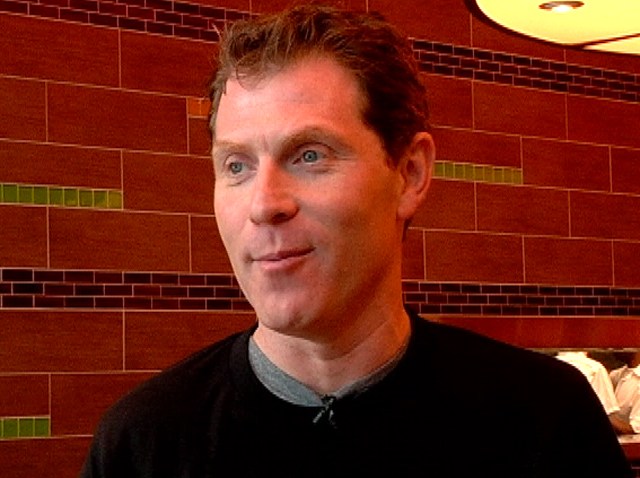 Bobby Flay has signed a lease at 2121 K Street N.W., the site of the former Mr. K's Restaurant, reports Missy Frederick in Washington Business Journal.
Bobby's Burger Palace marks the most recent addition to Red Meat Row, coined by Metrocurean for the dominance of burger joints on or near Connecticut Avenue surrounding Dupont Circle. The restaurant is one of three burgercentric spots run by New York restaurateurs set to open within blocks of each other, with BLT Restaurant Group's Go Burger and Danny Meyer's Shake Shack slated for spring openings.
The menu for Bobby's Burger Palace features 10 burger options (which vary by location), as well as a short list of sandwiches, salads and sides. Crunchify is the restaurant trademark, so named for the practice of using potato chips as condiments. We'll stick to pickles.
This will be the sixth store in the Bobby's Burger Palace chain, with others anchored in shopping centers and malls across New Jersey, Connecticut and Philadelphia. Does Flay consider downtown Washington a mall? Perhaps he's confused. Our city's is closer to the Capitol. And zoning would likely stonewall even Bobby Flay.
Flay has culled his reputation in New York and Las Vegas via Mesa Grill and Bar Americain as well as on Food Network's 'Grill It!' and 'Throwdown', for which he challenged Granville Moore's Teddy Folkman.