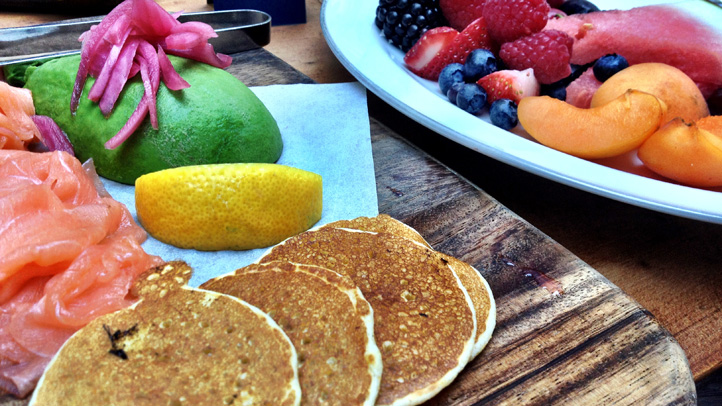 Combining the delectable fare of Blue Duck Tavern with D.C.'s relentless march toward fresh, local ingredients, the Park Hyatt will has launched a series of Masters of Food & Wine events.
This past Sunday, Blue Duck exec chef Sebastien Archambault dished up a three-hour gastronomical journey, combining unexpected breakfast pairings with a walk to the Freshfarm market at Dupont Circle.
For $55, guests had an all-you-can-eat buffet of new arrivals on the breakfast menu, including short rib hash and horseradish sauce, and fried chicken liver with poached eggs, grits and sweet pepper relish.
I stuck with tried-and-true breakfast items such as the fruit platter with watermelon, dates, peaches, cherries and a host of berries (blueberry, raspberry, strawberry). I also tried the salmon plate accompanied with medallion pancakes and half of a model-worthy avocado, garnished with sweetened, crisp red onions.

Included in breakfast were bottomless mimosas and coffee, as well as the best maple syrup I've had in the city. "Blis" is made from bourbon casks and has an infusion of bourbon as well. The bourbon provided a nice relief from the pure, tooth-aching sugar rush of most maple syrups -- and went perfect with the moist French toast.
A short walk to the Freshfarm market in Dupont Circle followed, where Archambault and his team made a chilled cucumber soup with a dash of champagne. The Park Hyatt tent quickly drew the largest crowd around.
Check out the website to find the next Masters of Food & Wine opp, or you can always just stop by Blue Duck Tavern (1201 24th St. NW) for their scrumptous breakfast.