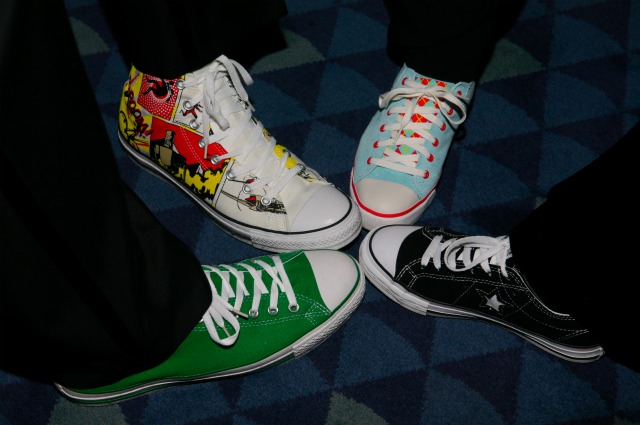 You may not know who Paul Cohn is, but If you've ever lit up a cigar at Old Glory, gotten picked up at J. Paul's, dished at Paolo's or had hummus at Neyla, then send him a thank-you note.
Restaurateur Paul Cohn didn't make the real cover of Washingtonian this month, but his good friend, journalist Harry Jaffe, made sure he was covered for his 70th birthday, which was celebrated with a Black Tie and Chucks Rock 'n' Roll party at the Washington Convention Center.
The event was billed as a surprise party for Cohn, but how that worked we're not sure. Niteside is not an expert on the strolling practices of Washingtonians, but it's a safe bet that most people don't wander around the Convention Center at night, nor do they drop in for an unscheduled hot dog.
So we have to assume it was not a surprise after all. But, thank you, Paul for being a great pretender. We loved it when you strolled into the ballroom and reacted like it was a scene out of "This Is Your Life."

"So, how does it feel to be 70?" Niteside asked.
"I'm not 70," said Cohn. "It's the second anniversary of of my 35th birthday."
Technically, that would make him 37, but we're not going to argue.

We asked Radio One's mega radio star Cathy Hughes to tell us something amusing about Paul. "He's very serious," she admitted. "I met him when he had the Mark IV nightclub and later when he masterminded the incredible success story for Peaches and Herb." That, of course, explains why the amazing duo performed in his honor; hopefully, gratis.
We also checked in with Lynn Breaux, president of the Restaurant Association of Metropolitan Washington. "He's a big believer in the combination of hospitality and politics," Breaux said, "and there's no better way to get your point across than with hospitality. He's very good at that."

Uber real estate developer Herb Miller called Cohn a treasure for Washington. "He's done remarkable things for decades and made the city great," Miller said. "I'm here because I love Paul; he will do anything for anybody."
Publicist Linda Roth relayed a story about the opening of J.Paul's on M Street in 1983, and the hot tub that resided above. She didn't indicate that it still exists, but challenges anyone to dare and find out. "It's there," she teased, "if you look in the right place."
Although no reward is being offered to find it, have a go at it. Just Google-Map the address and let us know.
In pursuit of other amusing Cohn stories, we were left empty-handed. Guests were mum and joked that maybe they weren't legal.