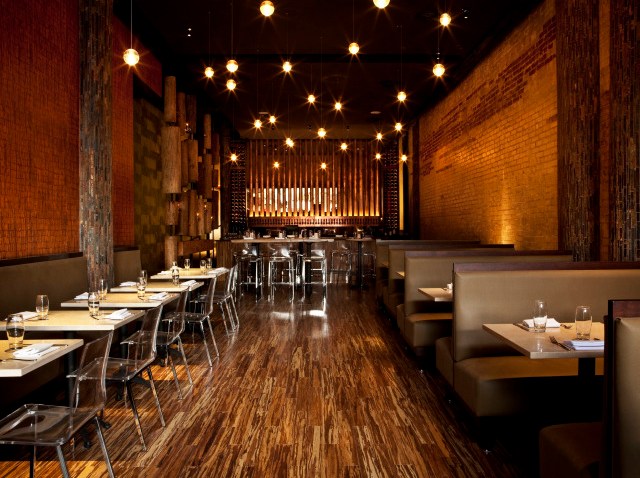 The much-anticipated restaurant Birch and Barley (1337 14th St. N.W.) opened with lines out the door last Thursday. One floor up, the 3,250-square-foot beer haven ChurchKey serves up 555 unique labels. Both houses are extremely beer-centric and serve dinner throughout the week, under the guidance of Executive Chef Kyle Bailey. Whether you're just droppin' in for a drink or a date, here's all you need to know about what they offer:

What they're serving: Birch and Barley Restaurant's main entrees mix savory classics with unexpected touches. Choose from honey-glazed duck breast, dry-aged ribeye, or crispy wild striped bass. Then again, there's always charred octopus with shaved fennel and apple.

Pastry Chef Tiffany Macissac comes from Allen & Delancey, where she customized imaginative desserts and created an in-house bread program. If you're craving dessert try a figgy toffee pudding cake, a caramelized banana or a honeycrisp apple beignet with a whiskey-vanilla shake.

ChurchKey, which seats 130, has its own menu. Foods highlight the beer selection, like artisanal pizza and three type of panino. Chow down on poppers -- from foie tots to arrancini caprese -- as well as an assortment of flatbreads.



Specialty: Beer! And lots of it! Beer director Greg Engret offers 555 different beers. A hundred styles and 30 countries are represented here. True beer lovers will enjoy the rare drafts, half of which will rotate weekly. And obviously, each style of beer is served in glassware appropriate to its type.

When they're open: Birch and Barley is open for dinner Tuesday through Sunday starting at 5:30 p.m. ChurchKey opens at 4 p.m. on weeknights and 1 p.m. on weekends.