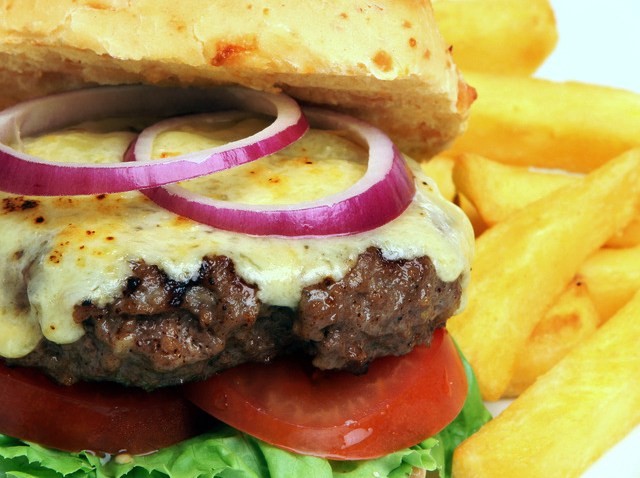 The area's already been overrun with cupcake confectionaires, but the schmancy burger joints popping up everywhere offer something on the more savory side.

With four locations inside the Beltway, including as a neighbor of Arlington's beloved Italian Store, BGR: The Burger Joint provides as much substance as your stomach can handle.

BGR never tries too hard, with its '80s-themed joints and and distinct neighborhood feel. The basics are all there: burgers, fries (real ones and not some variety thereof), shakes and floats.

The meat is a standout -- prime, aged, all-natural, hormone-free, grain-fed beef. And they don't shirk on it. For $6.99, you can get the basic burger, which arrives thick and cooked to order.

Each of the 11 burgers has a note about some local celebrity who likes it or what TV show happened to feature it. I heard about the Wellington Burger through the grapevine -- it was their most popular burger-of-the-month, and so good they kept it as a regular. The burger includes deep-roasted mushrooms, caramelized onions, garlic and black truffles.

And for the super-bold, the 9-Pounder is a challenge even for those used to an eating contest. The actual weight, including the bun, is 15.4 pounds. Two heads of lettuce, eight tomatoes, three red onions and four whole pickles. If you can eat it in one sitting, it's free -- Maalox included. Or, you know, bring it home for a party. Just give them 24 hours' notice to make it.

BGR is where you want to spend your money -- and you won't have to contend with unnecessary lines of tourists there.
---
Let's Go Around Town: Keep up with what's happening in the D.C. area anytime, anywhere. Follow us on Twitter and Facebook. Sign up for our e-mail newsletters and find out What You're Doing Tonight with texts delivered right to your mobile phone -- just text DCTONIGHT to 622339 to sign up. (Message and data rates may apply.) Don't forget our iPhone app!