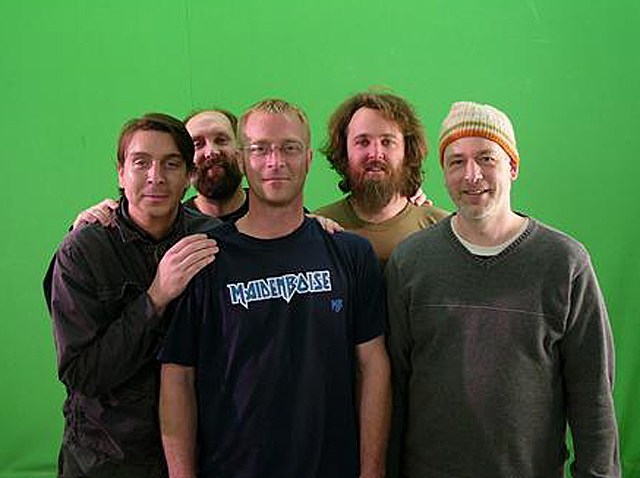 This year has been the best in memory for new releases (maybe only because 2008 was so unmemorable) and Tuesday may have been the best new-release Tuesday of the year -- or ever, since I can't remember what came out in 2007.
Just look at the Ms alone: You get "The Sound the Speed the Light" from godfathers of American indie and the greatest American post-punk band Mission of Burma, "Life of the World to Come" from lo-fi indie singer-songwriter John Darnielle's The Mountain Goats, Morphine anthology "At Your Service" -- featuring many unreleased songs as well as live and alternate versions of Morphine's greatest -- and another Motorhead best of comp, "Burner" -- not that it's necessary.
Even better, Built to Spill and Lucero are back with new albums. The former returns after more than three years, making this an early release, with "There's No Enemy." BTS frontman Doug Martsch left much of this studio session on the cutting room floor. He's said recently the world only needs new Built to Spill every four or five years, and his efforts on this record have him rumored to be wondering whether the world will need another at all. And Lucero, once quick to turn out new records, also has been gone for three years. "1372 Overton Park" finds this Replacements-meets-Uncle-Tupelo band adding a horn section -- as just a backdrop -- to its twangy, power trash take on Southern rock.
Genius outsider/underground pop songwriter Daniel Johnston's "Is and Always Was" promises ace production and arrangements a million miles from his legendary '80s bedroom cassette recordings. Pretty much every recording artist has covered Johnston. Up-and-coming acts should take a listen and plan their cops.
Miles Davis' ex Betty Davis' groundbreaking (for a girl) 1975 raunch-funk album "Nasty Gal" finally gets a long-overdue reissue, and her "Is It Love or Desire" gets its even longer overdue actual release.
Robert Pollard keeps churning out little quirk pop gems. His latest group, Boston Spaceships, released its third album -- in about a year -- "Zero to 99."
Two days ahead of his appearance at 9:30 Club as bassist of Dinosaur Jr. and frontman of opening act lou barlow + the missingmen, Lou Barlow (also of Sebadoh fame and one of the godfathers of the lo-fi revolution 20+ years ago) releases his latest solo venture, "Goodnight Unknown." He employs a host of accomplished musicians and a real studio in very un-Barlow fashion, but if you read the names -- Dale Crover, Lisa Germano, Sebastian Steinberg, Andrew Murdoch -- you can only expect the best.
Soul Coughing frontman Mike Doughty allegedly ditches the pep of "Golden Delicious" for a return to an acoustic, bare bones version of his prior band's funky, jazzy indie rock on "Sad Man Happy Man" (a title, I hope, reminiscent of Tim Buckley's "Happy Sad"). It includes a cover of Johnston's "Caspar the Friendly Ghost."
Califone's "All My Friends Are Funeral Singers" continues and expands upon the band's seamless experimental mix of trad-rock and folk-blues, Americana and world beat.
A Place to Bury Strangers promises to blow more minds with its shoegazey, dreamy noise on "Exploding Head."
Northwest underground mainstay Karl Blau -- an every-ready session man and bandmate -- is back with his third album for K Records. This time, his indie folk's got a lot of psychedelia and experimental jazz in the mix.
X singer and namesake Exene Cervenka has her first solo LP since 1991 with "Somewhere Gone," a folk and country voyage, subdued but with the same punk edge of the band she started with decades ago.
On his first LP for Matador Records, "Childish Prodigy," Philly singer-songwriter Kurt Vile's sometimes dreamy and psychedelic blend of rock and folk drifts between his familiar lo-fi and his deserved lush arrangements.
Plus, reissued remasters of four brilliant LPs by the groundbreaking Jesus Lizard: "Liar," "Goat," "Head" and "Down."
And of course there is the latest from indie darling Sufjan Stevens. Well, not quite. "Run Rabbit Run" is Stevens' second album, "Enjoy Your Rabbit," rewritten and arranged for Osso, a string quartet that's supported Stevens in the past
And there's more: the Black Heart Procession ("Six"), Air ("Love 2"), The Duchess & the Duke ("Sunrise/Sunset"), The Raveonettes ("In and Out of Control"), Orenda Fink ("Ask the Night"), Music Go Music --another M! -- ("Expressions"), Vic Chesnutt ("Skitter on Take-Off"), Christmas Island ("Blackout Summer") and DJ Spooky ("Secret Song").
If you're not buying at least one album this week, you're missing out.