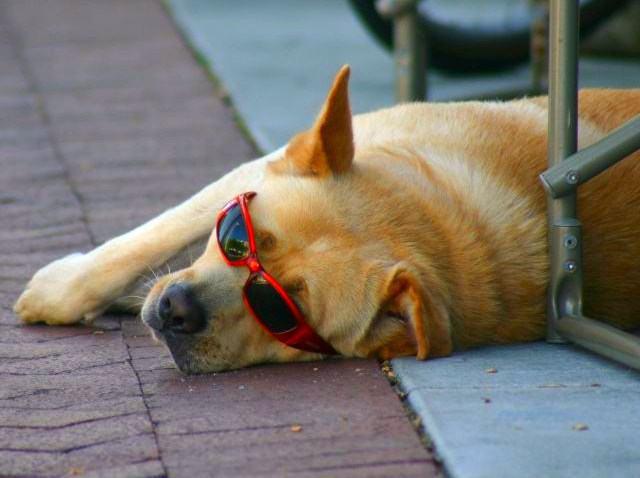 Lace up your walking shoes, strap on that fannypack and maybe even attach one of those personal clip-on fans for good measure. Hot damn! This weekend, Aug. 1-2, the annual MidCity Dog Days of August Sidewalk Sale brings sizzling summer shop ops and other special events to U and 14th streets. Check out performers, special events and great sidewalk sales at area galleries, restaurants and stores.
SALES
With nearly 30 participating venues in the area, it'll be hard to hit them all. Especially once that strappy thing breaks on Ye Olde Flip-Flops. However, an ideal weekend for us will surely include the following:
Urban Essentials (1330 U St. N.W.): 20-60 percent off floor samples and 15 percent off all regularly priced merchandise.
RCKNDY (1515 U St. N.W.): 20-80 percent off floor models and clearance furniture like bedding, sleeping sofas and art.
Boundless Yoga (1522 U St. N.W.): free 30-minute healing sessions Sat. 2-4 p.m.; free community yoga Sun. 2:30 p.m.; discounted classes, clothing and gear; raffle for free classes.
Gallery plan b (1530 14th St. N.W.): free refreshments; 15 percent off all artwork, not including show features.
Cake Love (1506 U St. N.W.): buy three cupcakes, get one free.
Cork Wine and Cork Market (1720 and 1805 14th St. N.W.): wine and cheese at Cork starting at 2 p.m.; lemonade at the soon-to-open Cork Market.
Café Saint Ex (1845 14th St. N.W.): ceviche tasting and gazpacho contest Sat. noon-5 p.m., proceeds benefit Ross Elementary School.
EVENTS
On Saturday, stop by the U Street Festival at the neighborhood farmers market (2000 14th St. N.W.) 10 a.m.-3 p.m. to learn more about life in this hip, up-and-coming, gentrifying-to-the-point-of-explosion area.
With some local knowledge under your belt, head over to the Studio Theatre Annual Garage Sale (1501 14th St. N.W.) to peruse through furniture, clothing and collectibles that were used in the past season's plays. Because everyone loves a broken umbrella!
Next, check out Improv-A-Palooza at the Washington Improv Theater (1835 14th St. N.W.), where caffeine-pumped performers will offer 10 straight hours of 10-minute improv acts, 2 p.m.-12 a.m.
On Sunday, Source Theatre (1835 14th St. N.W.) holds an all-day open house for both kids and adults. A morning theatrical workshop lets participants get hands-on experience with acting, improv and stage makeup. In the afternoon, the theater's companies and youth art groups will take the stage to perform short acts.
In other words, go for the sales and stay for some culture (like once you run out of money).