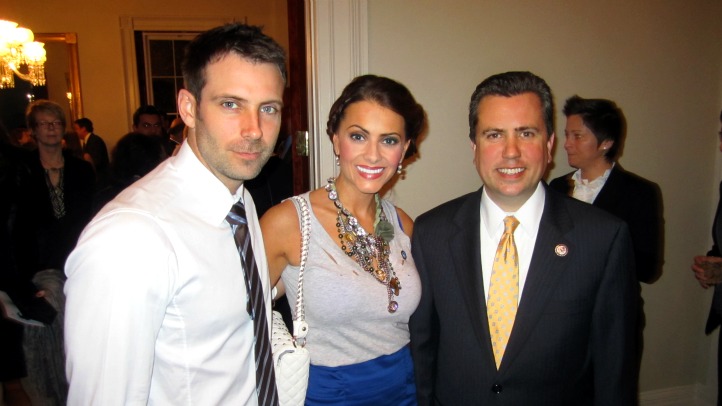 Among those sporting the blue ribbon -- promoting colon cancer awareness with Chris4Life at the Decatur House -- was one seriously social Bachelorette.
As it turns out, Michelle Money, famous for her time on "The Bachelor" and "The Bachelor Pad," is still living large online.
"Chris4Life heard about me through 'The Bachelor Pad'," Money said. "I think they saw the episode where I was talking about my father and his struggle with colon cancer, and they actually reached out through a tweet." She flew in from Utah to attend the cause's Blue Hope Bash on Wednesday night .
"At that time [they contacted me], my father had recently passed away, and I was very eager to get on board with anyone related to the cause," Money told us.
She explained how she's used her social media circles both to handle the grieving process and begin to give back to cause-related organizations in 10 weeks since his death.
"It's amazing how much support I have on Twitter. Not only have I had people praying for me and giving me advice, but I've been able to connect with doctors and get really great advice about the mourning process," she said. "Honestly, Twitter has been a savior for me."
But Money admits that her willingness to share deeply personal posts can cause some drama.
"I am very open about everything in my life, and I think that... if I had never connected with people about my father's passing, I would never be here," she said, meaning the room full of Chris4Life supporters.
However, things aren't always perfect in the Twittersphere, who told People earlier this year that she'd never expected to be the "villain" on that season of "The Bachelor."
"I don't take things personally at all, but every now and then you get tweets about ridiculous things," she said, citing an incident last week in which someone accused her of using her dad to get famous. "I wish I could remember her handle, because I'd love to call her out for this!"
The social media scrimmage was flame war in the making, but Money kept her cool... and concentrated on the colon.