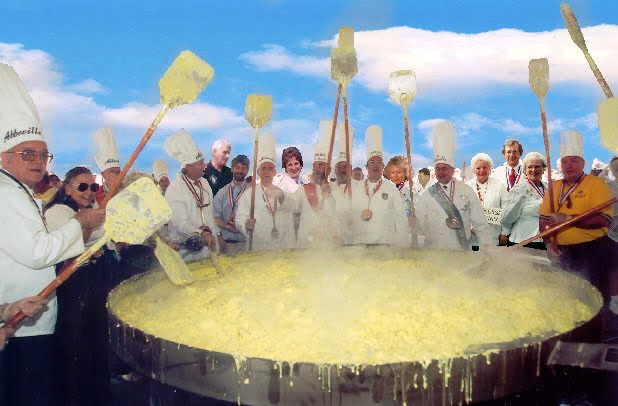 Where can you find a 5,000-egg omelet? Well, in an eight-foot frying pan, obviously. If that doesn't help you much, try this: It's at the Festival Français and l'Omelette Géante (Giant Omelet Festival), which happens every 10 years in both Fredericksburg, Va. and its sister city Frejus, France.
Set your GPS to Riverfront Park (600 Sophia St., Fredericksburg, Va.), because we're guessing you don't have the time to make it to France.

The fest spans two days and features six food vendors, kicking off this Friday, July 16 at 7 p.m., with a four-hour music festival.

But 9 a.m. Saturday is when the real fun begins. A team of Chevaliers -- or French chefs -- will come and prepare the giant omelet, which includes 5,000 eggs, 52 pounds of butter, four gallons of chopped onions, a pound of pepper and 20 pounds of "special Virginia spices." The omelet will be served to the public with, of course, a side of French bread.

The festival also includes activities for kiddos, wine tastings for adults and more than 60 arts-and-crafts vendors. Ready for a road trip? Get directions here.
---
Let's go Around Town: Keep up with what's happening in the D.C. area anytime, anywhere. Follow us on Twitter and Facebook. Sign up for our e-mail newsletters and find out What You're Doing Tonight with texts delivered right to your mobile phone -- just text DCTONIGHT to 622339 to sign up. (Message and data rates may apply.) Don't forget our iPhone app!